Print This Post
3, 2, 1, have some fun and start dancing! It's almost New Year's Eve, and you've got a spectacular kid-friendly party to throw, or a party that your kids are coming with you to. Either way, you've got to keep them having a good time. Why would that make you dance? Because AllFreeKidsCrafts has it all sorted out for you. We have the perfect crafts and recipes to make December 31st go as smoothly as butter. Keep the kids' tummies full with yummy snacks and tire them out with fun, exciting crafts and you may just get to sneak in your New Year's kiss without a little nose in the way.
Making noise is a blast for the little ones, so encourage it for one night (only one
night, for your sake) with noise-making crafts. This will keep the kids focused while you're doing what you do, and then it will give them something to do when the clock strikes 12 instead of simply screaming. There are some creative ideas out on the internet. I really enjoy the Fringed Party Noisemakers.
Other Noisemaker Crafts:
Wearing party hats is fun, but wearing party hats that you made is just awesome. The munchkins will get a kick out of their crafts serving as party decorations everywhere. Hands down my favorite New Year's Eve kids' craft is the New Year ball that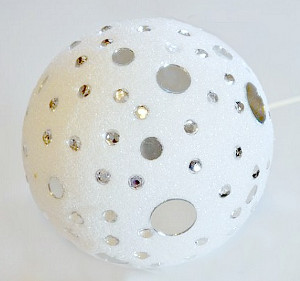 you can "drop" in your own home. It's really a simple craft that will create an unforgettable memory. How fun is it that you can have your own ball drop rather than just watching it on TV? It's even better than wearing 3D glasses while watching the event in Time Square.
Other New Year's Eve Kids' Decorations: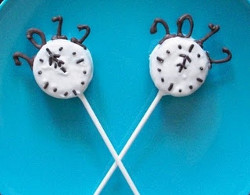 It is essential that you remember that diet resolutions don't start until it's officially January 1st, so make New Year's edible crafts with your kiddos. All of your guests will be delighted by the clever, festive treats that you and your mini sous chefs create. The kids will just love serving their homemade snacks and showing off their artistic abilities. I'm a big fan of
the midnight Oreo pops because they're super simple to make, they're absolutely delectable, and they're the perfect size for party food.
Other Edible New Year Crafts:
Bonus!
Some other great crafts for your kids or grandkids to make are organizational projects. They're just as fun for the kids, and they help you out a ton. The kids will look forward to filling their crafts with items, which means that your cleaning will be done for you! Thank the craft goddesses for this one! The organizational castle is a great project that will please both of you. Crown the artist as your New Year's resolution gets a big head start.
Check out Party Time! 20 Kids' New Year Crafts and New Year's Eve Food for a full party craft guide.
Do you let your kids/grandkids stay up until midnight on New Year's Eve?
AllFreeKidsCrafts.com is pleased to welcome parents and kids of every age to our collection of the most exciting kids' craft ideas from all over the web. For young minds, arts and crafts develop creativity, so AllFreeKidsCrafts is here to inspire their imaginations with activities and crafts for kids of every age. From nature crafts to make in your own back yard, to edible kids crafts in the kitchen, to crafts for kids who dream of adventure, we feature all sorts of kids crafts from the web's most innovative parents and craft designers.
Latest posts by AllFreeKidsCrafts (see all)
Print This Post