Spring is just around the corner, but many quilters are still looking for that first pattern to really inspire them to start quilting. The editors at FaveQuilts have been preparing for the upcoming change in season by updating our top spring quilt patterns page, and we'd like to share these beautiful projects with you. Here's a sneak peek at some of what you'll see in 24 Sweet Spring Quilt Patterns and Easter Sewing Projects, so take a look and get started today.
Butterfly Quilt Patterns
One of the top trends on our page for several weeks has been butterfly quilt patterns, so we made sure to include some of our reader favorites in our spring patterns page. Even though they all share a common theme, each of these quilts has a unique approach to design. There are free applique patterns that you can use to create a gorgeous cascading effect, as well as projects that use piecing to finish off a quilt with a fresh looking spring border. This section contains patterns for both quilts and smaller projects like mug rugs, so you'll have a project to work on no matter what your time frame looks like.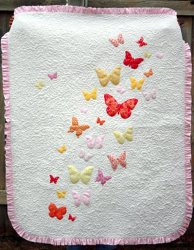 Flower Quilt Patterns
You can't have spring without flowers, and 24 Sweet Spring Quilt Patterns found some of the best just for you. As quilters will be making projects for more than just cribs and couches, we made sure to include some home decor projects and techniques as well. Learn how to design floral-inspired Dresden plates, loopy free motion quilting tutorials for an intricate look, and even an English paper piecing pattern for a traditional design.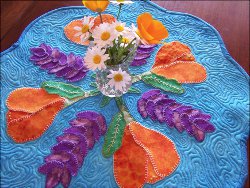 Spring Baby Quilt Patterns
Spring has become synonymous with the birth of many new little babies, which means that another way quilters are keeping busy during spring is with some new baby quilt patterns. As expected, we've found some adorable and absolutely free baby quilt designs, but that's not all. Our collection also includes practical patterns to ensure that you can have variety in the quilt patterns for baby that you make.
Easter Sewing Projects
Easter is one of the many holidays quilters will be celebrating during spring, making these free Easter patterns a good choice when it comes to projects to start on once spring comes around. You can design your very own birds, bunnies, or baskets with the help of these lovely Easter patterns. These will come in handy both as decorations and as gifts, and many of them also make fitting additions to your general spring decor.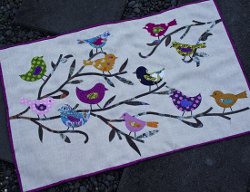 The projects we've featured here are just the beginning when it comes to the new spring quilt patterns and free Easter patterns, so discover all of the top patterns to start on with 24 Sweet Spring Quilt Patterns and Easter Sewing Projects. Our collection has everything you need to transform your home into a spring sensation!
Latest posts by FaveQuilts
(see all)