Print This Post
Do you have little leprechauns running amok in your house? St. Patrick's Day is a blast for little ones, and it's easy to see why. After all, how many chances do you get to wear every shade of green in your closet and try to find your very own pot of gold at the end of the rainbow? No matter how you choose to celebrate St. Paddy's Day, one thing remains the same: celebrating St. Patrick's Day is tons of fun! And thanks to 12 St. Patrick's Day Crafts for Kids, you and your loved ones can bring a little luck with you everywhere you go on the luckiest day of the year.
From leprechauns to gold coins to rainbows, you will find everything you need to decorate and celebrate St. Patrick's Day in style with this charming new eBook from AllFreeKidsCrafts. From the second you start crafting these fun and festive St. Patrick's Day projects, your house will be filled with the luck of the Irish. With these St. Patrick's Day crafts for kids, you and your family will be well on your way to your most entertaining celebration yet.
Leprechaun Ideas for Kids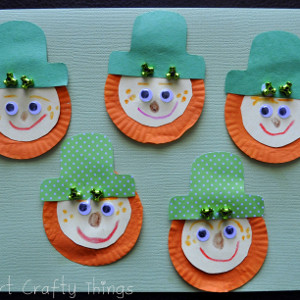 Leprechauns are joyfully mysterious creatures, parading around as the mascot for this entertaining holiday, and it's that mischievous energy that makes leprechauns a kid-favorite craft idea! Every year, people search high and low for these mythical men. With the crafts in 12 St. Patrick's Day Crafts for Kids, you'll now know where to find them. Kids simply love crafting these cute little men in funny hats, and with leprechaun crafts like these Cupcake Liner Leprechaun Beards (pg. 5) your home will be filled with Irish cheer in no time.
 Rainbow Crafts for Kids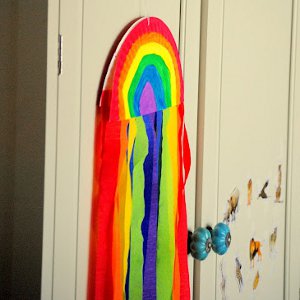 Sure, green is the go-to color when it comes to celebrating St. Patrick's Day, but that doesn't mean you can't use every color of the rainbow to show how much you love this cheerful holiday! Plus, if you make some of these rainbow crafts for kids, they might just lead you to your very own pot of gold! St. Patrick's Day crafts like these are the best way to make your house simply overflow with holiday cheer, and projects like these Rainbow Windcatchers (pg. 8) are just one of the perfect decorations to hang around the house.
Other St. Patrick's Day Craft Ideas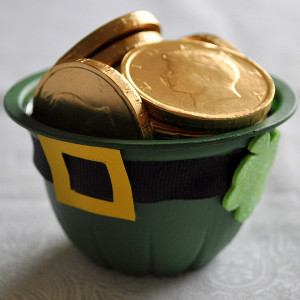 St. Patrick's Day simply isn't complete without shamrocks and pots of gold! With all the wonderful projects in 12 St. Patrick's Day Crafts for Kids, you will have hours of fun for the whole family planned out for St. Patrick's Day. The best thing about this collection of St. Patrick's Day craft ideas is that there's no rule…except to use as much green as you possibly can.
It's your lucky day! You can download your own copy of 12 St. Patrick's Day Crafts for Kids by clicking here.
How do you celebrate St. Patrick's Day with your kids?
AllFreeKidsCrafts.com is pleased to welcome parents and kids of every age to our collection of the most exciting kids' craft ideas from all over the web. For young minds, arts and crafts develop creativity, so AllFreeKidsCrafts is here to inspire their imaginations with activities and crafts for kids of every age. From nature crafts to make in your own back yard, to edible kids crafts in the kitchen, to crafts for kids who dream of adventure, we feature all sorts of kids crafts from the web's most innovative parents and craft designers.
Latest posts by AllFreeKidsCrafts (see all)
Print This Post