October's on its way, but you've probably already packed up your autumn fabric; it's time to start those Christmas quilt patterns! The editors at FaveQuilts have been hard at work looking for the best new Christmas projects and quilted Christmas decorations just for you, and shared some of their findings this past week with our fans on Facebook. If you missed out, look below and get ready for some Christmas cheer.
Monday: Advent Calendars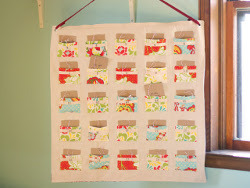 Advent calendars aren't the easiest quilted projects to find, so when patterns as pretty and useful as the Pocket Advent Calendar designed by Noodlehead (hosted by Gwenny Penny) come out, you've just got to check them out. This pattern in particular is fun because you can fill the colorful pockets with little gifts or activity ideas for any little ones at home, and you can use practically any kind of fabric you'd like.
 Tuesday: Quilted Christmas Ornament Crafts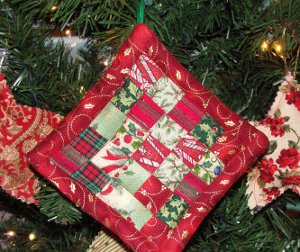 Round up your fabric scraps and apply your everyday quilting skills to make the 25 Patch Mini Christmas Ornament from Love to Sew Studio. The nine patch quilt pattern is currently one of the most popular designs on our site, so we're sure all of you readers will adore this cute little variation that's got a classic, homemade charm.
Wednesday: Stocking Patterns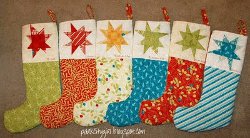 Here's a fun craft that can involve the whole family. Everyone can choose their favorite fabrics and you can easily whip up a whole set of cute decorations using the Christmas Stocking Tutorial from Amy's Creative Side. You can personalized them in just about any way you'd like, and they're perfect for the quilters looking to keep their fabric budget small.
Thursday: Quilted Christmas Decorations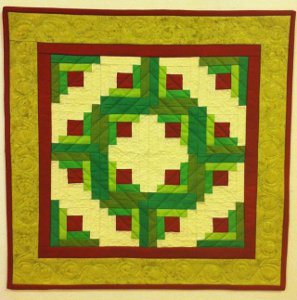 The holidays are the best time for quilters to get thrifty with anything and everything. Take the Berry Christmas Log Cabin Wreath from Christa Quilts for example. While others will be cleaning up piles of dried needles, you'll be sitting back and admiring your work with this creatively festive use of log cabin quilt patterns.
Friday: Tree Skirt Patterns

Learn how to make a tree skirt with a refreshing free quilt pattern like the Christmas in July Tree Skirt from Freshly Pieced. These Christmas quilts in particular can provide a nice break from the standard shapes you're used to when piecing together a lap or a throw.
Saturday: Christmas Quilt Block Patterns

When you're finally ready to start on those full-sized Christmas quilt patterns, you can find a variety of options with some crafty holiday quilt block patterns. We know that star quilt patterns are huge with our readers, making the Scrappy Christmas Star Block from Clover and Violet a cost-effective and gorgeous block that we know you'll love.
See all of the patterns from this week's feature on Facebook, and visit our site to find even more Christmas quilt patterns
you can start on now. Feel free to leave a comment and let us know what you'd like featured next.
What do you like quilting for Christmas?
Latest posts by FaveQuilts
(see all)