Mother's Day is just around the corner, and I'm sure some of you are at a loss as to how to show mom your appreciation. Believe it or not, most of the time what mom really loves is the sentiment of the whole gift. Homemade Mother's Day cards offer the perfect opportunity to express what you can't always say. Sure the gift is nice, but the card is the real gem of Mother's Day. Give your mom a show stopping card this year by making one yourself.  These creative Mother's Day card ideas will give your message to mom some style.
Must-See Mother's Day Card Ideas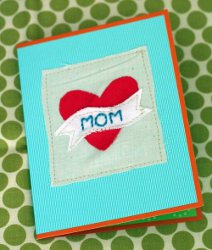 We'll start off fairly simple for you. This "Inked" Mother's Day Card retains the classic structure of a greeting card in its shape. What differs in this DIY card is the tattoo-inspired sewn front piece. This card is great because it can be funny and sentimental. The tattooed front can recall mom's wilder, often unspoken youth, "Does it look like your tattoo, mom?" you can jokingly (or seriously) ask. She'll get a good laugh out of seeing "mom" classically stitched on the front of this card. When she opens it up, she'll tear up at your sweet words of appreciation. In one way or another, we all have "Mom" tattooed on our hearts, so why not express it?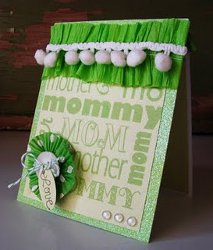 You can flip the fold of that conventional card and make this Green Embellished Mother's Day Card. Like any other card, this Mother's Day card opens up to reveal your meaningful message. Unlike any other card though, the cover is supremely special. The most interesting aspect of this DIY card is the front. From this tutorial you can learn how to gussy up regular cardstock with fabric and pom-poms. It's loud, gaudy and fabulous; it's the perfect way to express your abounding feelings for mummsie.
These 3D Greeting Cards not only look amazing, they're also super fun to make. Forget giving this project to the kids, make this yourself – to give to mom, of course. Your mom will love these pop-up cards from Creme de la Craft. Get goofy in your design. You can make pop-ups of inside jokes between you and mom or special memories. This is one card that comes to life!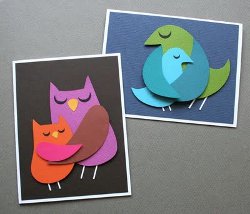 I'm in love with this Momma Bird Loves Baby Card. It's a simple yet perfect depiction of a mother-child relationship. Despite being well over my toddler years, I'm constantly assured by my mom that I'm still, in fact, a baby. I think she'll love this sturdy paper craft, as will most mothers. By following the links to this greeting card tutorial, you can access the printables to make these adorable momma and baby birds.
All revved up for Mother's Day now? Get more crafty ideas for the woman of the hour from this FREE eBook, Mother's Day Crafts: 9 Gift Ideas and Crafts for Mother's Day. You'll learn how to make gifts and decorations for the special day. Honor thy mother by downloading this eBook today!
What are you making mom for Mother's Day?
Latest posts by AllFreeHolidayCrafts
(see all)