Take a hint from the ancient Romans and decorate your home with lavish mosaic art projects. Did you know that it was common for the wealthiest citizens to have four dining rooms – one for each season? At the House of the Faun in Pompeii, each dining room is decorated in mosaics with colors and symbols reminiscent of each season.
Even though such luxurious living is rare today, you can still decorate your home with that ancient art style and feel as though you are royalty. No matter where you put them, these 20 mosaic project ideas from FaveCrafts, AllFreeHolidayCrafts, and AllFreeKidsCrafts will freshen up any room in the house.
Don't be afraid to make this art form your own. Creating mosaics is easier than it looks. There are so many ways to can make one, and the results are always inspiring.
In the spirit of the House of the Faun, these mosaic project ideas have been divided by season, but they really look lovely no matter what time of the year.  Here, you will find mosaics for the garden, kitchen, dining room, office, and more. Get ready to feel like a Roman goddess!
Make a Mosaic for the Springtime Garden
The following mosaic art projects would look great in your garden next spring. As you take a leisurely stroll through your garden, you will be surrounded by beautiful art. That's enough to make anyone feel like an empress!
2.  Ivy Leaf Mosaic Hanging Pot
3.  Recycled Concrete Mosaic Planter
4.  Mosaic Bunny
5.  Decoupaged Mosaic Wine Bottle
How to Make Mosaic Art for Summer
These mosaic art projects are great for outdoor décor like stepping stones. While you're relaxing on the beach, don't forget to pick up a few seashells for a refreshing summer craft. Enjoy bright colors and nature while you can, and craft this beautiful mosaic art.
2.  Mosaic Butterfly Stepping Stone
Mosaic Art Ideas for Autumn
As the leaves begin to change, you will notice that nature has a flair for creating mosaics of its own. Be inspired by the warm autumn colors and show Mother Nature that you can make mosaic art of your own. These art ideas are as beautiful as the changing trees. Come, see, and conquer a few mosaic projects this fall.
1.  How to Make a Pebbled Garden Mosaic
Simple Mosaic Projects for Winter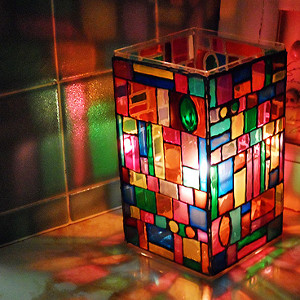 Winter is a great time to make mosaic projects as gifts for family and friends. These art ideas and mosaic frame decorating is just the gift to warm your loved ones' hearts. Amaze everybody on your list with handmade gifts fit for royalty.
FREE eBOOK!
While you're adding beautiful mosaics to your yard, you might want to spruce up your garden even more with some decorative flower pots or painted watering cans. What better way to get the latest crafting ideas than by using our free eBook Garden Crafts? Not only are these ideas decorative and fun, but they are a great way to help the environment.
What is your favorite season and why?
Latest posts by FaveCrafts
(see all)