Weddings can be exhausting for guests. With all that dancing and drinking, wedding party-goers often end up hungry before they are ready to exit the festivities. These 11 Sinfully Easy Late Night Snack Ideas for Your DIY Wedding will send your guests home with a happy stomach. Many wedding themes are ripe with easy midnight snack ideas. Having a Hollywood wedding? Serve up some popcorn. Throwing a down-home shindig? Pass out some crock pot applesauce. The possibilities go on and on. These unique wedding ideas will add an extra memorable moment to your wedding that guests will be talking about for years to come.
I absolutely love the idea of midnight snacks at a wedding. Too many times, I have left a wedding in search of some late night cheap snack ideas to quiet a rumbling stomach. All that dancing, partying, and drinking can really make you work up an appetite. These late night smorgasbords are a dream come true for out-of-town guests who are not familiar enough with their surroundings to hunt down some late night snack ideas on their own. They are perfect to pass around a party, too. Just like appetizers, they can be enjoyed while the festivities are still happening. There is no need to stop the celebration for a rumbling stomach.
Fabulous Wedding Late Night Snack Ideas
Yummy donuts and a caffeinated pick-me-up for the drive home? Could this idea be any more perfect?



Grilled cheese is the ultimate comfort food. I would be knocking down other guests to grab a handful of these little treats. Bonus points if you pair these with a tasty little cup of tomato soup!



I love applesauce, especially when it is chock-full of cinnamon. This would be an amazing healthy snack to munch on post-wedding. It'd be great paired with some cinnamon donuts and cider, too!



You cannot have enough sweets at a wedding. It is a fact. This tasty Down Home Dessert Table would be an amazing late night snack to roll out, especially if you pair it with coffee and some ice cream a la mode.



Cookies and milk? A classic. Plus, how cute is the milk in a martini glass? This is one of my favorite late night snack ideas.



Whenever I go to a diner late at night, you can be sure I will be ordering the waffles. So, these little late night waffles? A total dream come true.



A late night snack does not have to happen at your wedding. Consider sending your guests home with a doggy-bag of take-out. A little bag of popcorn or some fries would be great in the car or back at a hotel room.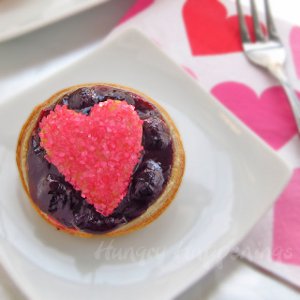 These Sweet Mini Blueberry Tarts taste as sweet as they look
How yummy do these Mini Banana Pudding Cups look?
These little sliders and tiny beer mugs will definitely keep the party going.
These dainty doughnuts and hot cocoa would be delicious at a winter wedding.
What do you love to munch on late at night?
Latest posts by AllFreeDIYWeddings
(see all)