Print This Post
Man does this jewelry look good. I'm not one to genderize much, but there's something about these pieces that screams, "Manly!" With Father's Day on the horizon, I got to thinking about unexpected gift ideas for dad. Then it occurred to me that he would never wear homemade jewelry. He's just not that kind of person, but I am…
I've selected projects from AllFreeJewelryMaking and from around the blogosphere to aid you in your manly endeavors. Whether your dad wears bracelets, your boyfriend likes to browse through your jewelry box, or you just prefer masculine accessories, these do-it-yourself jewelry designs will hopefully aid you in your journey to manhood.
Manly Jewelry Designs Anyone Can Handle
Personally I wouldn't mind seeing this particular DIY ring on a fella's hand or my own. Its simplicity is straightforward and attractive. This ring hides nothing. As one who likes their rings like their men (eh-hem, honest), I highly suggest trying to learn How to Make a Simple Silver Ring. If you don't want to keep this for yourself, at least you'll brush up on your metalwork skills in the jewelry-making process.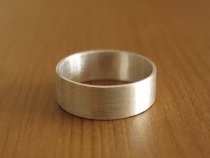 Think about making these DIY Cufflinks for those collar-and-tie men who also like to accessorize. When I saw this project on AllFreeJewelryMaking I was immediately struck. You can reuse some bolts and screws around your house and make these recyclable cufflinks. It will be an excuse to craft because, let's face it, somebody at home has to watch the waste. What's more, this project holds much more versatility than you may think. If you're a trendy trailblazer, don't make these cufflinks for your brother; make them for yourself!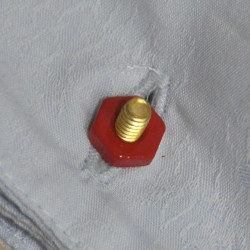 I came across this Paracord Bracelet from Modern Jewelry. This is a strong bracelet reinforced with braided cords. I love the way this bracelet looks. I also happen to love the amazing video tutorial that shows you how to make this handmade bracelet.
Yet another pair of cufflinks. I just think they're an under-appreciated piece of jewelry. While these Lego Cufflinks from Instructables aren't necessarily manly, they certainly are boyish. I think I'll make a pair for myself- that is for my 12-year-old cousin. In all seriousness, though, I think a lot of men would more than likely be drawn to these cufflinks. Keep them in mind as a possible homemade gift for a friend.
This last featured project is for the tough guys (or girls) out there. Learn how to make a necklace from this Personalized Dog Tag Necklace Tutorial. You can inscribe these tags with your name or a special message. These can easily be sentimental gifts for loved ones as well.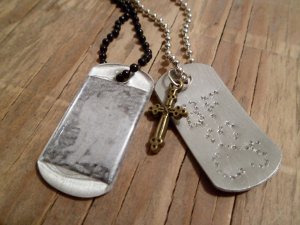 I know there are so many more "manly" jewelry designs to explore, but after all, a good man's jewelry design is hard to find. Hopefully you've gleaned some ideas as far as DIY gifts go for yourself or a friend. Check out our site for ideas on men and women's jewelry designs.
What do you think about men wearing jewelry?
AllFreeJewelryMaking is dedicated to the best free jewelry making projects, tutorials, tips and articles. From easy-to-put-together projects, to more complex stitching patterns, we find and deliver the best free jewelry making patterns from all over the web. Plus, we feature free product reviews and giveaways of all the latest and greatest products including bracelet kits, findings, jewelry making books, and more. AllFreeJewelryMaking is a wonderful online resource for jewelry makers of all skill levels.
Latest posts by AllFreeJewelryMaking (see all)
Print This Post