Today's Meet and Make designer is Haley Pierson-Cox. Haley is a crafty, granny glasses-wearing Brooklyn gal with a giant crush on all things DIY. She writes The Zen of Making, a DIY blog featuring crafty tutorials, handmade geekery, vegan goodness, and all things domestic.
Ready to meet Haley?
10 Fun Facts About Haley Pierson Cox
Spreadsheeting is one of my absolute favorite activities.
I was a gymnast for years, so when I get excited about something and say that I'm going to do a back flip, I just might.
My favorite food is broccoli.
I think that crochet hooks are just about the most useful craft tools on the planet.
I'm one of those weirdos who actually likes writing instructions.
I'm obsessed with Clover wonder clips.
I've been vegan for about a decade.
I made my own dress for the Emmys this year (my husband was nominated), and it didn't fall apart!
My great grandmother taught me how to make braided rugs when I was very, very young, and that's how I first caught the crafting bug.
Notions and tools are my weakness. I can resist fabric and yarn, but give me a seam measuring tool, and it's all over!
Here's Haley's Project:
Scrap Fabric Rosette Barrette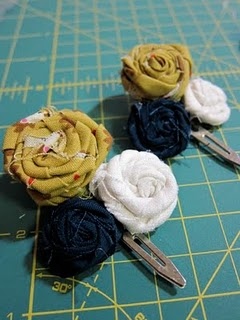 Materials:
Fabric strips
Felt scraps
Barrettes or hair clips
Thread
Hot glue gun
Fabric scissors
Sewing needle
Instructions:
Cut fabric scraps into strips. You can adjust the size of your rosette by changing the length and width of the strips.
Roll fabric strips into rosettes. This process is much easier to show than tell, so I made a video.For those of you who prefer written directions: Fold the fabric strip in half horizontally. Fold one end over several times, creating the center. Holding on to these folds, begin wrapping the fabric around the center (the fabric will build on itself). To create the rose petal texture, twist the fabric as you wrap. When you reach the end of the fabric strip, place a dot of hot glue on the back, then fold the fabric end over and press into place.
Cut circles out of felt. (Make them just large enough for your rosettes to fit.)
Glue rosettes to the felt using your hot glue gun.
Cut off any extra felt.
With your needle and thread, secure the rosette group to the hair clip. Make sure that your first stitch goes through the felt so it stays securely in place.Note: Depending on the type of clip you're using, you might also want to try jewelry wire, floral wire, or fishing line.
Tie off the thread, and it's ready to wear!
Latest posts by FaveCrafts
(see all)