Print This Post
Whether a glass jar once held peaches or pickles, there are tons of ways to make it new again. 10 Mason Jar Crafts: DIY Home Decor and Handmade Gifts in a Jar shows you how to raid your recycling bin and turn glass jars into great gifts or decorative accents for your home. No matter what holiday you're celebrating, there's a Mason jar craft to commemorate the occasion. From the middle of summer to the depths of winter, there are Mason jar crafts and homemade gifts in a jar that will get you into the spirit of the season. Let 10 Mason Jar Crafts: DIY Home Decor and Handmade Gifts in a Jar teach you how to turn trash into treasure with these cute and clever projects.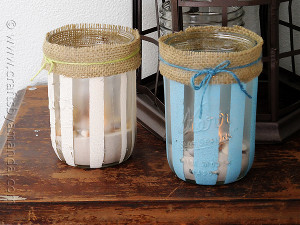 Brimming with Mason jar crafts for all occasions, 10 Mason Jar Crafts: DIY Home Decor and Handmade Gifts in a Jar is your manual for crafting your way through the recycle bin. Short on time? No worries! For a last-minute present this holiday season, you can't go wrong with a Mason jar gift. You can pull together portable party favors, too. What you use to fill each jar gift is up to you. Put lotion, emery boards, and nail polish in a jar to make an instant spa kit for your girlfriend. You can opt for a sweeter spin on a Mason jar craft and layer the dry ingredients for a batch of cookies in a glass jar. No matter what you choose, friends and family will appreciate your unique gift.


Once these beautifully-decorated jars have been emptied, people can use them for storage or decoration. Mason jar crafts combine fun and functionality.  Show your gratitude to a hostess, teacher, or neighbor without breaking the bank. A budget-friendly gift in a jar is an effortless and affordable way to express how much you appreciate the people in your life. You can also treat yourself with some of the home décor crafts in this eBook. Make votives that give your living room or backyard a warm, festive glow, or dress up your dining room table with one of these pretty Mason jar ideas. When it comes to crafting with glass jars, the possibilities are endless. Check out 10 Mason Jar Crafts: DIY Home Decor and Handmade Gifts in a Jar and get ready to impress your friends and family with your creativity all year long.



What's your favorite way to re-purpose Mason Jars?


AllFreeHolidayCrafts.com is an ever-expanding collection of the best holiday crafts from all over the Web. The site includes free holiday craft ideas for every occasion, including Halloween costumes, Thanksgiving decorations, Valentine's Day cards, Easter crafts for kids, easy Christmas crafts, free Father's Day crafts and Mother's Day crafts, St. Patrick's Day crafts, ideas to make patriotic decorations and so much more!
Latest posts by AllFreeHolidayCrafts (see all)
Print This Post