Mason jars are not just for canning anymore! There are so many fun uses for these versatile containers. Really, is there anything you can't use mason jars for these days? Surely you have seen them around. People use them as luminaries, candles, vases, and even lamps for weddings or home decor. They can also be used as gift containers, particularly for soup and hot chocolate mixes.
Christmas is a great time to try out crafting with mason jars. We here at AllFreeChristmasCrafts love mason jar crafts, and we hope you will too. We have some great DIY holiday crafts for you to try out this Christmas. From candles to gifts to holiday decorations, these jars have so many uses, especially around the holiday season. This list of 11 mason jar crafts for Christmas is sure to meet your crafting needs!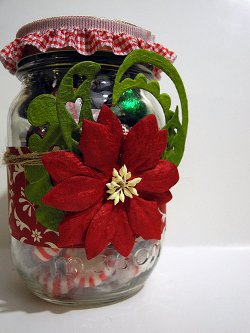 DIY Christmas Gifts
Choosing mason jars as gift containers is one of the best ways to use these versatile containers during the Christmas season. You can focus on decorating the jar itself using examples like a Decorated Mason Jar Teacher Idea or this Gorgeous Poinsettia Christmas Jar, and then fill the jar with candy or chocolates. You can also pay special attention to the contents of the jar and create a thoughtful, easy gift like a "We Love You" Jar that is filled with little slips of paper describing the reasons you care about the person you are giving the gift to. Either way, decorated DIY mason jars make simple, but classy gifts.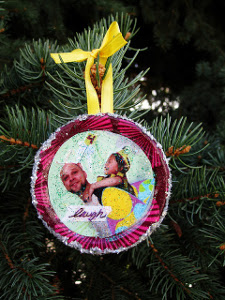 Homemade Christmas Ornament Crafts
While many mason jar crafts make great gifts, you can also use these jars to add to your collection of homemade holiday decorations. Make ornaments out of the jars themselves like this Mason Jar Greenery Ornament, and with just a couple leafy additions, you'll have some beautiful pieces to add to your tree. Remember, you can also use the mason jar lids in your crafting. Check out these cute Mason Jar Lid Ornaments for an adorable way to incorporate all parts of the mason jar into your crafting.
DIY Christmas Decorations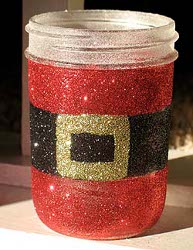 Aside from ornaments, mason jars can be used in many other parts of your collection of holiday decorations. You can go the sensible route and choose a practical craft  like Mason Jar Snow Globe Soap Dispensers. A more classic way to use mason jars is to make them into candle holders or luminaries. Use mod podge to make beautiful winter mantel decor, like Snowflake Jar Votive Holders, or fun, festive holiday clear jars, like Junkmail Snowflake Luminaries. Need more sparkle? Then these Light Up The Night Glitter Mason Jars are definitely for you. You even make the jars themselves into decorations like this Glittery Santa's Belly Jar. Add some sparkle and shine to your home this holiday season with these homemade Christmas decorations.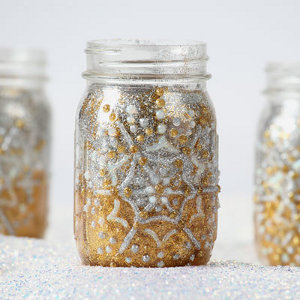 There are certainly a lot of ways to use mason jars, especially around the holidays. We hope you have found the mason jar craft for you this Christmas season!
Still want more jar craft ideas? AllFreeChristmasCrafts has a list for you!
What do you use mason jars for?
Latest posts by AllFreeChristmasCrafts
(see all)