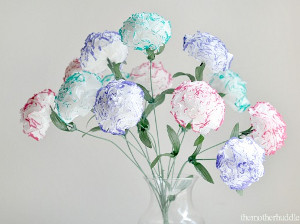 Diamonds may be a girl's best friend, but when you're seven, you can't buy the shiny rocks quite yet. The next best thing? Flowers.
Show Mom, Grandma, and little Janie how much they mean to you by giving them flowers on Valentine's Day. A bouquet of fresh roses is beautiful, but it can be pricey, it's over done, and frankly, it'll die in a couple of days. Instead, put your crafty hands to work and make your own bouquet of flowers, which will last as long as your love: forever. AllFreeKidsCrafts has endless original ideas for Valentine's Day, including numerous paper flowers that will make smiles bloom.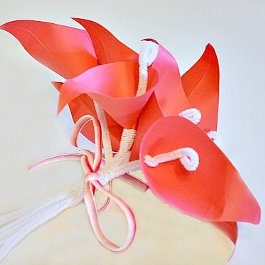 Make this February 14th affordable yet heartfelt by crafting a gorgeous bouquet of art.
Life Hint: Flowers make mommies VERY happy!
Simple Paper Flowers Kids' Crafts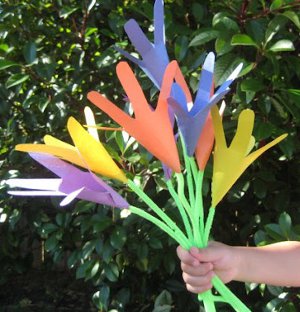 Even the littlest green thumbs can make love bloom this Valentine's Day with simple paper flowers. Increase the preciousness of your bouquet ten-fold by including an even more personal touch: your handprint. There's not much that's cuter in this world than tiny hands outstretched with love, so share some of that by crafting Handprint Paper Flowers.
Other Simple Paper Flowers:
Valentine Calla Lilies
Delightful Recycled Daisies
Tenderhearted Tissue Flowers
Bunches of Love
Muffin Flower Pot Craft
Paper Roses
Kids' Valentine's Day Homemade Paper Flowers
If you're really feeling crafty this season of love, make Grandma a fancy bouquet that she'll never forget. These paper flowers are a bit more challenging, but well worth the work. For a fun token of your appreciation, craft the adorable Poppies in a Vase from Write. Click. Scrapbook. These cheerful blossoms are sure to get hearts beating.
Other Homemade Paper Flowers:
Crepe Paper Flowers
Brightest Blossom Paper Craft
Poised Paper Painted Rose Bouquet
Fun Coffee Filter Flowers
Poppies in a Vase
Lunch Bags into Paper Flowers
Other Flower Craft Ideas for Kids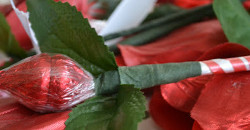 Paper isn't the only way to a girl's heart, believe it or not. Although some of these bouquets (Springy Cookie Flowers) won't last nearly as long as the paper, they're sure to please all the same. The Hershey's Kiss From a Rose may be devoured before you can say, "Happy Valentine's Day," but the warm feeling in everyone's belly will stick around for a long time to come.
Other Creative Flower Craft Ideas:
Duct Tape Flower Bouquet
Fun Fabric Flowers
Springy Cookie Flowers

Would you rather receive fresh flowers or crafted flowers from your little ones?
Latest posts by AllFreeKidsCrafts
(see all)