Run over Grandma and Grandpa with kisses, love, and homemade gifts this Christmas, and keep those reindeer away. Bubbie and Pop Pop are just about the coolest people around, so they definitely deserve some awesome homemade Christmas gifts this holiday season. Don't worry about coming up with the perfect idea because AllFreeKidsCrafts has hundreds of perfect ideas already picked out for you.
The rumors have been confirmed. Grandparents love anything that their grandchildren give them, make for them, or find for them. Grandma will treasure a rock that little Johnny found in the dirt outside her house. So, imagine how overjoyed Granny and Grandpa will be when they receive a handmade Christmas gift that is useful, presentable, and downright adorable.
While these are gifts to make for Gram and Gramps, that doesn't mean they can't be made with them. In fact, that would make the gift all the more special since it will be accompanied by the memory of crafting together.
Make Grandma and Grandpa holly jolly with some homemade flower crafts this Christmas. Watch Granny's face light up as you hand her a bouquet of flowers that will never wilt, just like your love.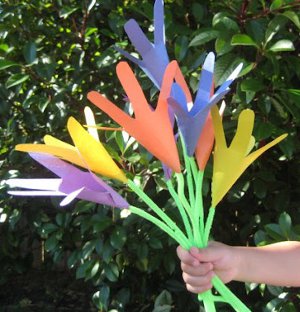 These arrangements of flowers will mean a lot more than a store-bought cone of daisies. Those might smell better, but you can always spritz your craft with perfume, like Floral Perfume, and beat the real ones out completely. The most authentic-looking and beautiful arrangement that kids can make that I've found are the Fun Fabric Flowers. As far as the best grandparent arrangement, I pick the Handprint Bouquet because Mee Maw and Pops love any reminder of their darlings.
Other Floral Arrangement Kids' Crafts:
Wash Cloth Lollipops
Stained Glass Magnolia Flowers
Button Flowers
Since grandparents can't get enough of drawings made by their little angels, make artwork with longevity this Christmas. I've seen a few really cool ideas for transferring artwork, but my favorites are the Transferred Art Decorative Candle and The Sidewalk End's Pillow Embroidering. Grandma will be carrying that candle and pillow with her everywhere she goes, so make them extra cute!
Other Transferred Art Kids' Crafts:
Perfectly Personalized T-shirt Gift
Children's Artwork Plates
Tea Towels
What will grandparents carry around more frequently than grandkids' artwork? Pictures of their beloveds. Make that easier for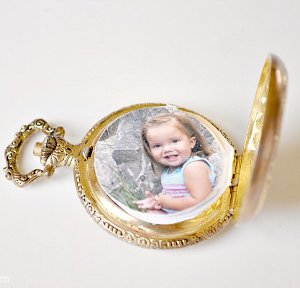 them by giving a cool gift adorned with a picture of  little one's smiling. That way they don't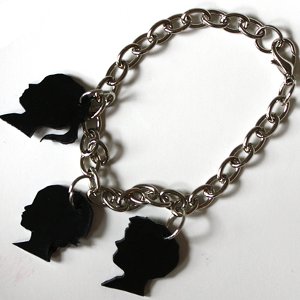 have to take the picture out and put it back in their wallets 50 times a day. These gifts will keep photos on hand so they can brag about their munchkins with ease. You can get super creative with homemade Christmas gifts featuring children, and some of my favorites are the Pocket Watch Photo Album, which Grandpa can carry with style, and the Silhouette Charm Bracelets, which Grandma will never take off.
Other Homemade Christmas Gifts With Photos:
Decoupage Photo Plaques
Block Picture Ornaments
Silly Picture Puzzle Blocks
What is your all-time favorite gift that you received from a grandchild?
Latest posts by AllFreeKidsCrafts
(see all)