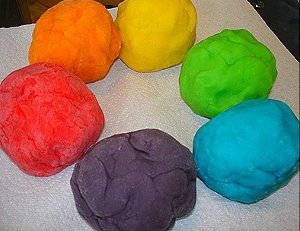 While your version of heaven may resemble a trip to the Bahamas with personal servants fanning you with leaves and feeding you grapes, kids dream of a whole different world; a world where toys are unlimited as is the play dough and finger paint. Mom heaven is expensive, but kiddo heaven can come true in a matter of minutes without breaking the bank. When you make play dough and finger paints at home, it's so inexpensive that the sky is the limit. Making endless identical batches sounds miserable, but AllFreeKidsCrafts has found a ton of different finger paint and play dough recipes so you'll never get bored.
How to Make Play Dough

Kids are very tactile, so play dough is the perfect craft to keep them busy. Once they're finished mixing and stirring, they will play with the gooey stuff for hours, molding, squishing, and remodeling. Don't bother going to the store and spending your money on expensive brand-name dough when you can make even better recipes at home. Thanks to the brilliant minds of bloggers, there is now edible play dough, delicious-smelling play dough, and vibrant play dough that will thrill the kids.
Homemade Finger Paint Recipes

Whether we like it or not, kiddos love getting messy. If they're going to do it anyhow, you might as well be confident in the materials with which they're working. Make non-toxic (and even edible!) finger paints that will keep the kids safe and make for an easier mess to clean up. Keep the kids in the bathtub with special Bathtub Fingerpaints, where it's simple to wipe up and hose down any "masterpiece."
Do you think that part of a good childhood is being allowed to get messy?
Latest posts by AllFreeKidsCrafts
(see all)