Jewelry making is a lot of fun, and learning new techniques and tricks is always an exciting venture. It is so rewarding to see your new creations come to fruition. Sometimes though, it just feels like your pieces are missing a little something special. They just need an extra piece or element to make them live up to your boutique-style dreams. The easiest way to find out what your piece is missing is to experiment with different elements and findings. The clasps, findings, and other little details of your jewelry designs make all the difference. From beaded toggle clasps to simple square stitch bails, you can give your pieces a professional look with tutorials like these from AllFreeJewelryMaking.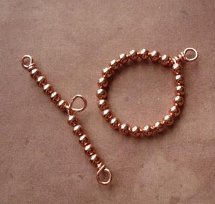 Creating your own clasps is an easy way to incorporate a dazzling DIY touch. Follow this How to Make a Beaded Toggle Clasp tutorial to learn a new handy jewelry making skill. Bring a touch of sophistication to your homemade pieces by adding the beaded toggle claps to your stash of jewelry making techniques. Here are some other tutorials you can try to experiment with different types of clasps:
Easy Wire S Clasp Tutorial
Garden Gate Clasp Tutorial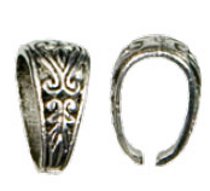 In addition to clasps, bails are a super simple way to add just a little something extra to your jewelry making projects. This skill is particular helpful for adding a unique component to pendants. Learn about different types of bails and how to use them properly with this helpful How to Use Bails jewelry making tutorial. For other pendant projects that need an extra bit of oomph, you can use these helpful tutorials:
Simple Square Stitch Bail
Curvy Wire Wrapped Pendant
Right Angle Weave Bezel and Bail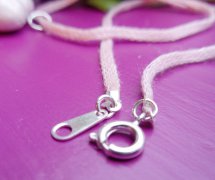 Need even more tips on making beaded jewelry for beginners? Try this video tutorial for How to Attach Fold-Over Crimp Ends when working with cord in your necklace or bracelet projects. If you are working with ribbons, you can try this tutorial for How to Attach Ribbon Crimps. Master these techniques, and give your cord and ribbon necklaces a clean, polished look.
For even more tutorials on jewelry making basics and learning new techniques, be sure to check out AllFreeJewelryMaking.com!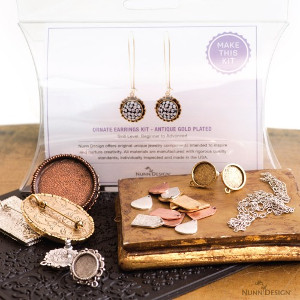 Bonus! Want to add more findings into your homemade jewelry collection? Enter to win beautiful findings and jewelry components to help you realize and elevate your own gorgeous jewelry creations with items from the Nunn Design Winter 2014 Collection Giveaway. This season's collection includes a stunning array of flat tag mini tablets, gold and silver mini earring circles, ornate brooches, clay squishers, and an ornate earrings kit. We are giving away the latest Nunn Design collection to one lucky winner. The deadline to enter is April 14, 2014, at 11:59:59 p.m. Eastern Time.
Which of these techniques do you want to try in your jewelry making?
Latest posts by AllFreeJewelryMaking
(see all)