FaveQuilts works with so many incredible designers, bloggers, and companies, but it's a special thing when we get the opportunity to speak with someone who is, to some degree, all three!
Judy Martin, one of our latest designers and the author of Patchwork Among Friends: From Patterns to Potlucks and Stellar Quilts, agreed to answer a few of our questions AND to give away free copies of her books!
We can all benefit from Judy's insight. And of course, don't forget to enter the giveaway for her amazing books!
What first drew you to quilting? 
My mother had sewn all my clothes, and when I started Junior High School, I started making my clothes in order to have some control over my wardrobe. In 1969, I made my first quilt for my apartment in college, using my dressmaking scraps. I had never seen a quilt before, and I thought they were made from uniformly sized squares. Making a quilt gave me such a sense of accomplishment that I never went back to making clothing. Besides, I envisioned quilts from all the cotton prints I was buying.
You are known for your dedication to beautiful, but complex, patterns. Can you tell us a little about why this has been such a strong through line in your work? 
I haven't always made complex quilts. When I was a beginner, I made simple quilts. As I gained experience, some of my quilt patterns grew more complex. Often, though, my quilts are easier than they look. In 1994, when I designed the Staggered Star border that graces a number of my quilts, I designed it for simplicity. It is easier to sew staggered stars than stars in the usual row with all their points touching. However, the look is new, and the rows are not so obvious, so people sometimes think it must be harder to make.
When I got my start designing for Quilter's Newsletter in 1979, I was known for fairly simple patterns that could be presented in a page or two. This was in the days of templates, when there wasn't such a distinction between easy and hard quilts. All patch shapes and sizes were pretty much the same level of difficulty. Furthermore, one method once served for all shapes. I suppose that I grew accustomed to the variety of shapes and blocks available to those who made quilts in the days of traditional template cutting and hand piecing, even though I never used those methods myself. When rotary cutting came along, I continued to design quilts made from uncommon shapes because I think they make some of the most beautiful quilts.
Nowadays, I think rotary cutting and "shortcuts" for making specific units have winnowed down the variety of patch shapes and blocks that most quilt makers use. While I am not about to give up rotary cutting, I think the method should serve the aesthetic of the quilts you want to make. For instance, if I want to use true diamonds for their elegant proportions, I figure out a way to rotary cut and machine piece them instead of substituting half-square triangles.
What advice do you have for quilters who are on the verge of (or nervous to) take the next step, from easy to intermediate/advanced quilting? 
Once you are comfortable with your sewing machine and have mastered the perfect scant quarter-inch seam allowance, you have the skill to make intermediate to advanced blocks. That's all it takes. Having success with patterns should give you the confidence to venture further.
I like making intricate, nuanced quilts because they give me more of a sense of accomplishment. When you would rather make one quilt that takes some time, rather than making several quick quilts, you are ready to take this step. For me personally I feel I don't have time to make ordinary quilts. I would rather make fewer quilts but make them all special.
When you set out to design a new pattern, what are your first steps? 
I often combine traditional patterns, such as Lone Star and Log Cabin, for example. I visualize the combination in my head or I may sketch the basic idea on paper. Then I head to the computer to work out the details. I work first with shapes, then with colors.
From where do you draw inspiration? 
I tend to work in series. While I am working on one quilt, I am already thinking of what I can do to take my idea to the next level. Most of my recent quilts are inspired by my earlier quilts.
Do you make your patterns on a computer, by hand, or by some other method? 
I may jot down ideas in a notebook or on the back of a receipt. However, I develop these ideas and come up with other ideas in the computer. I use a graphics program, Adobe Illustrator. It allows me the freedom to work outside the grid. I draw shapes based on mathematically precise dimensions and angles. In the computer I can change colors 'til the cows come home. I sometimes make scores of variations before I find the variation I like best and consider the pattern done.
What's the greatest or most helpful "quilting secret" you've learned or created during your years of quilting? (For example, a trick to cutting half-square triangles, the key to mastering free-motion quilting, etc.) 
I learned a tip that I have never forgotten in a 1970s class taught by Beth Gutcheon. She encouraged her students to mix in some clashing fabric in a scrap quilt. She said it added color tension. To this day, in my work, I like to dance all around a color, mixing in neighboring hues as well as tints and shades. I combine fabrics from different lines, different manufacturers, and different eras, as long as the colors work for my plan. As for quilting secrets I have discovered myself, my favorite is finding dimensions that work for rotary cutting diamonds, triangles and squares that fit together, as when making LeMoyne Stars or Lone Stars. Not all dimensions are ruler friendly, as the finished square dimension is based on 1.4142 times the finished width of the diamond. However, I have found some numbers that work together. For example, if you cut diamonds 2" wide (1-1/2" finished), they will fit squares cut 2-5/8" (2-1/8" finished) and quarter-square triangles cut 4-1/4" (3" finished) to make a LeMoyne Star that finishes at 7-1/4".
Do you have a favorite quilt that you've made? 
My favorite quilts that I have made are those based on wholly new ideas, whether it be adding a shadow, superimposing an off-center star over another one, or piecing a Wedding Ring from logs. I don't have a favorite single quilt, but I love pretty much everything that Ruth McDowell makes. She makes fantastic pieced pictures.  She is this year's inductee into the Quilters' Hall of Fame. I especially like her pieced quilts of people and animals.
What is your favorite part of the quilt-making process? 
My two favorite parts of making a quilt are: designing the quilt in the computer and binding the quilt. The designing offers so much promise, and the binding makes the quilt real and complete.
And now the big one! A newbie quilter approaches you in a café and says, "Judy, I don't know if I really want to start quilting. Can you give me three reasons why I should?" What reasons do you give him or her? 
A quilt is a creative expression of yourself. Everyone needs a creative outlet, and this is one creative pursuit that rewards you from the first project you make.
If you want either attention or self satisfaction, there is nothing like a quilt. The time and effort evident in a quilt, as well as the artistry, have a big impact.
Finally, there is nothing like a quilt to wrap your family and friends in love. Your self expression as well as your time and effort in making a quilt are obvious, and the gift of a quilt is everywhere viewed as a gift of love.
Liked what you read?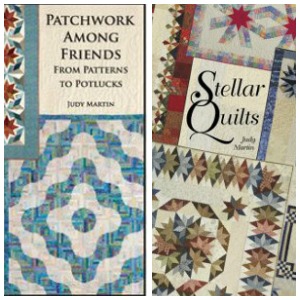 Then enter to win TWO of Judy Martin's phenomenal pattern books, Patchwork Among Friends: From Patterns to Potlucks and Stellar Quilts!
Visually complex, colorful, and completely unique, these quilts are not for the faint of heart. But each of Martin's patterns has a detailed step-by-step which makes even the most complicated patterns accessible to quilters of various skill levels and experience.
Read the full Patchwork Among Friends review.
Read the full Stellar Quilts review.
Enter to win!
What first drew YOU to quilting (or crafting)?
Latest posts by FaveQuilts
(see all)