Print This Post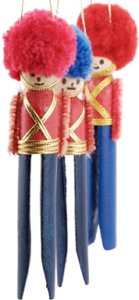 Christmas ornaments are some of the most popular Christmas craft ideas, and why wouldn't they be? After all, they're small projects that are easily integrated into anyone's Christmas decorating, year after year. You can make homemade Christmas ornaments super simply and super quickly, like this Pom Pom Ball Ornament. You're able to take a little longer to make your ornaments with any of these nifty crochet ornaments. If you're feeling ambitious and you have a lot of time on your hands, try a Somerset Star Ornament or a Cross Stitched Victorian Cone Ornament. Whatever the age, skill level, or the amount of time you have, you can definitely find an ornament craft suited to your tastes.
I have a personal preference for anything that's insanely cute. Baby animals? Yes. Precious smiley faces? Absolutely. Anything in miniature? You bet. That's why I've put together a collection of Insanely Cute Homemade Christmas Ornaments! Organized by the different Christmas icons, this collection is a comprehensive grouping of utterly adorable ornaments from across the Christmas spectrum.
Santa Crafts
You have never seen Santa look better than this. You can make an adorable Santa's Belly Bell Ornament, or crochet Santa's face instead. My colleague laughingly likened this "Santa Baby" Crochet Christmas Ornament to Doc Brown from Back to the Future, and who's more precious than Doc Brown? Well, maybe a few other people, but I digress.
Snowman Crafts
Snowmen are a classic icon for the Christmas holiday, and with a little bit of maneuvering, you can make a snowman craft that's totally cute. Grab jars, fabric, pom poms and more in order to make any or all of these cute crafts.

Food Crafts
Any craft that's shaped like food is automatically adorable. These ornaments look good enough to eat, but they're only for hanging!
Reindeer Crafts
Santa can't get anywhere without his reindeer, and these reindeer will melt your heart. Most of these crafts are super inexpensive. Who knew such cuteness could emerge from recycled materials or dollar store purchases like this Vintage Vignette Ornament?
Holy Crafts
Holy crafts are the perfect way to remind us of the reason for the season, and these adorable ornaments are the perfect holy crafts!
Cute Crafts
For all of those adorable crafts that didn't quite have a home, this group of cute crafts will be sure to bring a smile to your face. I love the little soldier ornaments, and who could resist the small smiles on those happy lights? These Cute Smiling Mittens are also super precious. I don't know how anyone could see these cute crafts without the desire to make them. I know I have plans for all of my ornament gift-giving already. . . . 🙂
What is the most insanely cute craft you've ever seen?
AllFreeChristmasCrafts.com is a website dedicated to the best free Christmas crafts, tutorials, tips and articles on Christmas. AllFreeChristmasCrafts finds and delivers the best Christmas crafts from all over the web, from Christmas ornament crafts to Christmas craft for kids. We want you to have the Christmas of your dreams.
Latest posts by AllFreeChristmasCrafts (see all)
Print This Post