One of the most traditional and heartwarming parts of the holiday season that you can celebrate year round are angels, and they've been inspiring crafters of all kinds to create them in the most unique and beautiful ways. All of us at AllFreeChristmasCrafts are so impressed by how creative angel crafts have gotten; we've seen angels made out of fabric, paper, and even food! We know we're not the only ones who love angel crafts, so we're spreading the joy on to you with our latest eBook, How to Make an Angel for Christmas: 7 Angel Crafts.
The angel crafts in this new eBook are accessible to crafters and non-crafters of all ages, so it's the perfect way to get the family together during any time of the year. You'll find that every one of these craft angels looks professionally made, but will hardly cost you a thing to make. The full tutorials and free patterns you'll find in this eBook are all very different from each other, but each gives you a new way to be crafty with recyclables and household materials in order to make ornaments, decorations, and more. Make them throughout the year as decorations for your home or even faith-themed gifts for loved ones. Angels are popular with all ages, so there couldn't be a better way to interest the whole family in trying some new crafts.
What you'll find in this eBook: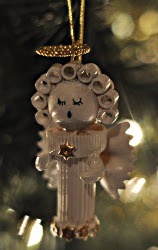 Pasta Angel Ornaments – Speaking of popular crafts, this has been one of the top projects on our site for a long time, and now you find out why. You'll be amazed at how few steps it takes to turn unused food items and paint, and turn them into handmade Christmas ornaments that will have everyone talking. This is also an easy Christmas craft that kids will enjoy, so if you have any little ones at home, show them a craft they'll be proud of once they see the results. There's no better way to save money and produce quality Christmas crafts!
Ribbon Angel Christmas Ornament – Sewists will also love our new eBook because there are gorgeous Christmas sewing patterns like this one inside. The most amazing thing about it is that it only took some festive craft ribbon and a few extra materials. This would really sparkle on top of a Christmas tree, but it's also durable enough to last for years (we know a few crafters who have already had theirs for multiple generations). A little angel craft like this would make such a touching gift for a loved one of any age.
Download a copy of How to Make an Angel for Christmas: 7 Angel Crafts – It's free!
If you like this eBook, you'll love:
Latest posts by AllFreeChristmasCrafts
(see all)