As a kid, I always looked forward to dyeing eggs for Easter, but I would quickly get bored with my standard red, yellow, green, and blue cups of food coloring. I mean, you can only make so many striped eggs before you lose interest. Luckily for my unfulfilled egg decorating aspirations, the days of dyeing Easter eggs with boring old food coloring are long gone!
There are so many clever ideas out there for how to dye Easter eggs that turn this traditional holiday activity into a full-on art form! Forget food coloring; you can get even bolder, brighter colors using Kool-Aid or fruits and vegetables as dyes. Or if you want a less messy (read: drier) option, you can get a fun, festive effect simply by using washi tape or tissue paper to decorate your eggs. You can even imprint images onto eggs, like words, flowers and leaves, or silhouettes, letting the negative space and the natural color of the eggshell shine through.
Here are some of the best tutorials for decorating eggs to make your Easter holiday egg-ceptional (Sorry, had to get at least one egg pun in there!):
If you want to add some detail to your eggs but don't have the steady hand to draw your own designs, using lace to imprint your dyed eggs is a great option to achieve a beautiful, delicate pattern. Make a bunch of lacy eggs in any color scheme you choose, and set them out as a pretty centerpiece for Sunday dinner! Your guests will definitely be impressed.
We've all dyed the shells of eggs before, but have you ever thought to dye the egg itself? These Crackled Egg Jewels have such a stunning visual effect, when really all it takes is cracking your hard-boiled eggs before you dye them! These would make a fun Easter appetizer; you could even use them for deviled eggs!
Definitely one of the coolest techniques I've seen is for dyeing Easter eggs with silk ties. No artistry required with this tutorial, and you end up with the most amazing designs! Just buy some old ties with pretty patterns from a thrift store (they must be silk!), wrap them up in the material, and boil them, and you'll have gorgeous, intricate dyed eggs that would put the Easter bunny to shame.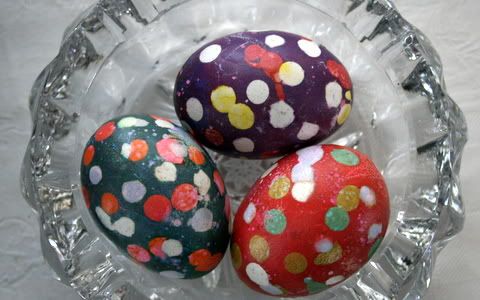 Making spotted Easter eggs is another easy way to achieve a stunning effect. For this tutorial, all you need is some candle wax and any egg dye, and you can have pretty speckled eggs like these! Or if you want a more uniform look, you can use little round stickers to make polka dot eggs.
If you like the idea of naturally dyed Easter eggs but want to take it one step further, you can use actual bits of nature to give your eggs an earthy, spring look. All you need is your trusty Mod Podge and some flowers or fern leaves from your yard, and you can craft these beautiful nature-inspired Easter eggs. You can also use a similar technique to make decoupage egg ornaments.
So hop to it! Leave the food coloring in the kitchen cabinet this year, and try out one of these innovative ideas for decorating Easter eggs. Just make sure you have some plastic eggs on hand too if you're planning an Easter egg hunt, because you won't want to hide these gorgeous creations!
Do you dye eggs every year for Easter? What's your favorite method for decorating Easter eggs?
Latest posts by FaveCrafts
(see all)