You love tutorials. We love tutorials. Everybody loves quilt tutorials! The internet is an incredible resource for free, step-by-step instruction on how to do … well, pretty much anything. But not all tutorials for how to make a quilt are created equal. There's nothing more frustrating than a beautiful quilt with an unclear or sub-par quilt pattern tutorial.
As a curator and self-declared experts in the art of hunting down high-quality tutorials for our readers, we've noticed a few trends and and criteria that we like to look for when we're trying to find the best tutorials. So, with no further ado, here are just a few things to keep mind as you're writing your quilt tutorial! Give your blog its best chance to get noticed.
1. Include a materials list.
This is one of the most important pieces of  tutorial, but it's something that a lot of bloggers overlook. It is so important that you remember to include a list of the materials needed in order to make a quilt block or full quilt. This includes the size of the finished quilt and any special notes about the materials (if you used a specific type of fabric or pre-cuts, etc), so that your readers can go into the quilt making process fully prepared.
Here's a great example of a materials list from our Garden District Picnic Quilt.
Note that this list includes the size of the finished quilt, a rough idea of how long the quilt will take, and a brief explanation of what fabrics were used as well as a special note about measurement particularities. It may seem like you're giving too much information, but always err on the side of too much, rather than too little. Better to be over-prepared than under-prepared!
2.  Don't assume your readers are as skilled as you are.
It's easy to forget that quilters of all skill levels and experience may be reading your tutorial, but don't assume your readers will automatically know what you mean when you say something like, "Now just bind your quilt and you're finished!"
You are, of course, not obligated to explain (for example) how to bind a quilt every time you post a tutorial, but if you have done so in the past, make sure to link that segment of the tutorial to the more in-depth explanation. Remember that every blogger and teacher brings their own special experiences and techniques to the process, and maybe your insider information will be the final key to helping a novice unlock the secrets of binding without ending up in tears, swearing an oath never to quilt again.
The best tutorials are the ones that take special care to explain specifics and techniques — especially if you have a special way of doing it! Tammie from CraftyTammie has a great tutorial on Adding Zippers the Lazy Way that is a great, fresh look at one of the trickiest parts of sewing.
3. Take lots of photos during the process.
This is always true, but especially when you're describing a tricky process. Don't be afraid to have more than one photo per step! The truth is that you may never be able to explain quite as well as a picture can, and of course a little of both is best. A great technique for this is to explain the steps in words and then show a series of photos that demonstrates what you've just said. A great example is the Four Hour Lasagna Quilt from Stacey at the Tilted Quilt. She describes the steps of how to piece her jelly roll quilt pattern and then includes demonstrative photos:
It's helpful to your readers to be able to read the tutorial and then see the steps as you've described them. So don't scrimp on photographs!
4. TAKE GOOD PHOTOS!
The quality of your photos is hugely important to the quality of your quilt tutorial. Keep in mind factors like light, clarity, and photo size when you are making your tutorial. Make sure that your photographs have plenty of light and are of high resolution. Presentation is half the battle! You could have the best tutorial for how to make a quilt in the whole world, but if you have low-resolution, dark photographs you'll lose readers at first glance. Here are a few great examples:
See how nice the photographs for these tutorials look? Don't you just want to click on them, even if you aren't quite sure what some of them are for? That's the photo quality you want in your tutorial. Luckily for you, the cameras on things like iPads and smartphones are getting better and better, so if you don't have a fancy camera you don't necessarily have to buy one. Just do the best you can!
5. Always tag accordingly.
This is one of the best pieces of advice that we can give you. If you don't have a designated "Tutorials" page, be sure that you have tagged all your tutorials as "tutorials"! It may seem like a tiny detail, but if there isn't an easy way to find and navigate your tutorials, they'll get buried in your blog and never see the light of day. If we can't find it, we can't feature it. So be sure that all your posts are tagged with consistent, intuitive, easy-to-guess tags ("quilt tutorial" is a good example, or "my tutorials" if you don't want to limit yourself).
Have you ever made a quilt tutorial?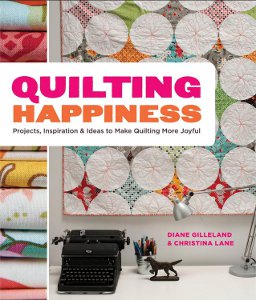 PSST! Don't forget to check out Quilting Happiness, the amazing feel-good quilt book that we're giving away right now on FaveQuilts! According to Quilting Happiness, the key to finding joy in your quilting lies in getting to know yourself and your creative tendencies. Co-authors Diane Gilleland and Christina Lane hope to help you accomplish this through a variety of quilting projects, full-color illustrations, and personal reflections on quilting. You'll also learn original techniques for backing and finishing as well as some new stitches.
What are you waiting for? Enter to win today!
Latest posts by FaveQuilts
(see all)