Hey quilters!
Or maybe you aren't quilters. You may, in fact, be brand new to quilting. A more accurate salutation may be,
Hey, new quilters!
or
Hey, people who have never quilted before!
If you have never quilted before, then you are in the perfect place to begin. Everybody has to start somewhere, which is why we have here at FaveQuilts a beautiful collection of  6 YouTube Quilting Videos for Beginners. You won't believe the tips and tricks that can save you some serious quilter's heartbreak. For example, have you ever used a rotary cutter before? You will literally never want to use scissors again, and here's a video tutorial that will show you just how easy and fabulous rotary cutting is:
If you want to learn how to quilt efficiently (and who doesn't?) you must check out this video for How to Chain Piece for Faster Quilting. Most quilters use chain piecing for quickly stitching fabrics together for a quilt top. Save time and energy when you follow the tips outlined in this video.
Additionally, when you check out this collection, you will learn the dramatic difference between ironing and pressing. Don't make a rookie mistake like ironing your quilt blocks! Find out why when you see this quilting video:
For more basic quilting tips for beginners, be sure to check out our additional video tutorials in 6 YouTube Quilting Videos for Beginners. From basic skills to more specific techniques, these quilting tips will take you from novice to expert in no time at all.
BONUS: Get inspired to start quilting today with some of the most popular free quilt patterns for beginners! These totally basic designs look gorgeous, and they're so easy to make! Work your way up to our expert patterns when you first start with an easy quilt pattern for beginners.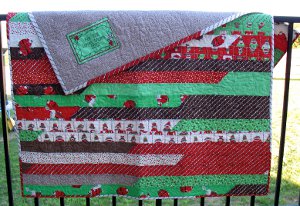 What is your quilting skill level?
Latest posts by FaveQuilts
(see all)