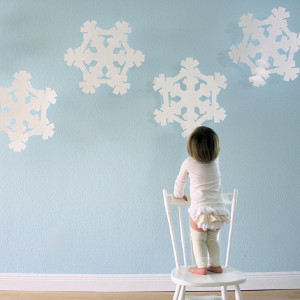 Making paper snowflakes has always been one of my favorite winter activities, but I was absolutely obsessed with paper snowflakes as a child. When I first learned how to make a paper snowflake, I just couldn't stop. My kitchen table has been no stranger to paper scraps and multicolored scissors over the years, and now that winter is finally here, I had to share my love for these snowy paper creations.
This kid-friendly guide will teach you everything you need to know, from learning how to make paper snowflakes to tackling tricky paper snowflake designs. Just because these winter crafts are perfect for kids doesn't mean adults can't make them, too. Making paper snowflakes has no age limit!
Start with the Basics
This paper snowflake tutorial from FaveCrafts will teach you the basic paper snowflake pattern, so start here!
Fold a square piece of paper in half diagonally to form a triangle.
Fold in half again.
Fold the triangle into thirds, folding each side towards the center.
Cut a straight line across the bottom.
Cut pieces out of all three sides in random patterns.
Open to see your finished snowflake.
Once you've mastered these six steps, you can move on to the paper snowflake patterns below!
Paper Snowflake Patterns
One of a Kind Snowflakes– this paper snowflake pattern will help inspire you to create your own wintery creations.
Pipe Cleaner and Paper Snowflakes -if younger family member struggle with scissors, you can make these paper snowflakes instead! They're just as cute, and they're incredibly easy.
Super-Sized Snowflakes -making paper snowflakes is always fun, but making them as big as you is even better! These gargantuan flakes are easy to make, too.
Paper Snowflake Garland -this tutorial from Elevator Musik will teach you how to make paper snowflakes into a festive DIY garland.
More Amazing Paper Snowflake Designs
3D Paper Snowflakes -once you've mastered the standard paper snowflake template, go the extra mile and try making them 3D!
Game of Thrones Paper Snowflake Patterns -Krystal Higgins designed these awesome paper snowflake patterns, and you can download the templates for free to make your own!
Precious Snowflake Lions -turn your favorite snowflakes into adorable wintery creatures!
Paper Snowflake Trees– these creative paper crafts from Just Crafty Enough are the perfect way to reinvent your classic paper snowflake designs and make an elegant centerpiece all in one project.
Star Wars Paper Snowflake Patterns– make these paper snowflake designs from Anthony Herrera to prove you are the ultimate Star Wars fan. Browse the site for even more amazing patterns!
 Psssssst! Have a unique paper snowflake tutorial you'd like to share? Contact us!
Do you and your family make paper snowflakes in the winter?
Latest posts by AllFreeKidsCrafts
(see all)