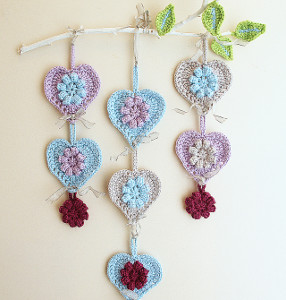 Don't believe anyone if they tell you crocheting isn't cool! Take it from me; as a yarn skeptic, I wasn't convinced that I could ever enjoy crochet. Recently, though, I was proved wrong.
In our office, we took a class together so we could learn how to crochet. I thought I would struggle through the class, since I tend to mess up any kind of craft that involves weaving, sewing, embroidery…really anything that doesn't involve paint or clay. But to my surprise, I made the starting chain with ease, and quickly picked up on the basic crochet stitch we'd be using to make our dish cloths. In minutes, I was crocheting faster than the speed of light!
Okay, I might be exaggerating a little. But watching my hands create something I never thought I could do was just so exciting. I caught myself daydreaming about improving my skills to the point where I could make all of my Christmas gifts from crochet projects.
Learning to crochet is easier than you might think. After all, if I had a blast accomplishing a simple little dish cloth, just imagine how much fun you'll have trying the easy crochet projects on this list. These beginner crochet patterns are the perfect way to get kids hooked on crochet. You might just have a crochet expert in your house before you know it!
Free Crochet Patterns for Kids
Every one of these adorable crochet projects is easy for kids and teens to make. Try them all!
If I still haven't convinced you that you can crochet with confidence, you can always try taking a crochet class. And have I got the perfect class for you! Annie's Crafts runs incredible online video tutorials that will teach you just about any crafting trade, and AllFreeKidsCrafts is currently giving away free access to the Learn to Crochet Class! You'll be able to follow along with the video and practice the essential crochet stitches you'll need to churn out five pretty projects. Our giveaway ends on November 9, 2013 at 11:59:59 p.m. Eastern Time, so make sure you enter today for your chance to win!
What do you want to crochet?
Latest posts by AllFreeKidsCrafts
(see all)