The anticipation of Christmas is creeping up your spine and sending chills down your arms. I don't care if it's only May or June…or January; it's allowed. Dissipate some of that energy, especially from the kids, by preparing for Santa's (hopefully smooth) slide down the chimney. Make sure he lands in a Christmas kingdom, not a catastrophic cave. Even if you live in a cave, you can disguise it by turning it into the most wonderful winter wonderland with kids' Christmas crafts and recipes. Distract Santa even further with fantastic fragrances pouring out of the oven. He may stay for longer than he planned when he sees the  Cheesy Loaded Twice Baked Potato Recipe on the counter. (Don't blame it on his belly; You'd be hungry too if you slid down millions of chimneys in one night.)
The kids will have such an amazing time turning their plain old home into a land of enchantment during the merriest time of the year. So, unroll the stockings, dust off the bottles of glitter, and dig up the paint to create 117 of the best kids' Christmas crafts. Remember, a jolly house means a jolly family.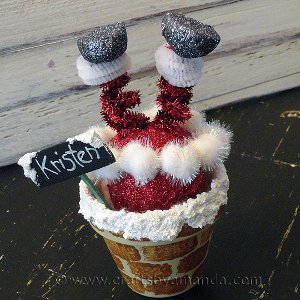 Make Santa giggle with funny Christmas crafts kids can make. These crafts are not only entertaining to put together, but they'll put a smile on anyone's face who takes a peek. The most clever of the bunch is the Chimney Diving Santa. (It's actually my favorite Christmas decoration that I've seen.) Santa can take a joke; don't you worry. He won't be offended. In fact, Rudolph and he will probably get a nice long chuckle out of all the funny Christmas crafts you'll find in the Handbook to a Homemade Christmas. Here are some of the funny homemade Christmas crafts: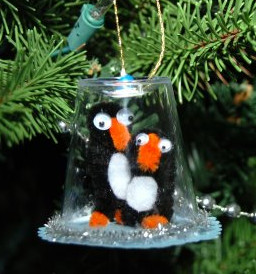 Cute Thumbprint Reindeer
Do It Yourself Elf on a Shelf
Juice Can Santa Sidekick
Playful Penguin Snow Globe Ornaments
Rudolph Melted Crayon Canvas
Toilet Paper Roll Reindeer Ornaments
Santa's Sleigh Tape Dispenser Ornament
What's that you say? You didn't start crafting in January, and suddenly it's December 23rd? You're lucky we've got everything covered over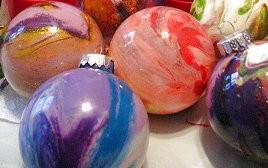 at AllFreeKidsCrafts.com! No matter how little time you have or how short-handed you are (kids always have short hands, so that
counts too), you can decorate your soon-to-be jolly house in a quick minute. Santa doesn't care when you made the decorations; he just cares that they look awesome. And they will with the quickie crafts you can find in the merry manual. Check out some of the fastest kids' Christmas crafts:
Quick Quilted Tree Ornaments
Swirled Paint Glass Ball Ornaments
Jingle Bell Bracelet
Cool Candy Cane Rolling Marble Painting
Tissue Paper Candy Cane Ornaments
Toddler Wreath Collage
Thankful Paper Chains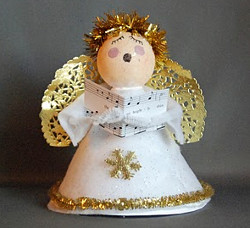 If you really want to knock Santa's socks off this year, be under the age of 18 and make a stunning Christmas decoration. Even if you're not a kid, join in. I'm sure he'll still be impressed. My personal favorite fabulous Christmas craft from the is the Caroling Cherub.  Santa will be mighty proud of any kid who can make these crafts, and may even slip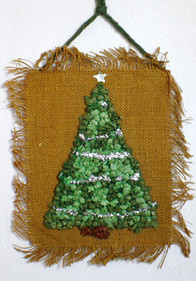 an extra present under the tree for the little Michelangelo. Prepare to see the most splendid crafts in the guide to glee. Here's a sneak-peek at some of the most impressive kids' homemade Christmas crafts (and they're totally doable– even easy!):
Retro Tissue Tree
Paper Mache Angel Tree Topper
Inspirational Ornaments
Paper Ice Cream Cone Ornaments
Cool Holiday Hanging Icicles
Feather Angel Ornaments
Check out some other fun Christmas crafts I found over at Homework, like this Sew and Tell Christmas stocking.
Which craft are your elves sure to make this Christmas?
Latest posts by AllFreeKidsCrafts
(see all)