Print This Post
It's a new year, which means it's time to start fresh with your crafting. If you're still not sure of where to start, look back to the holiday season for inspiration. Many of you received some special gifts from your loved one, which means there are probably plenty of people left to thank. This is the perfect situation to get crafty in, as you can use some of the homemade Christmas card crafts we've added on AllFreeChristmasCrafts as thank you cards to send out your gratitude and good wishes for a great new year.
Zig Zag Stitched Thank You Cards – This card immediately stands out for its use of fabric. If you're someone who likes to work with different patterns and materials, you'll be happy to see that your extra scraps won't have to go to waste. Challenge your sewing skills and really impress someone special.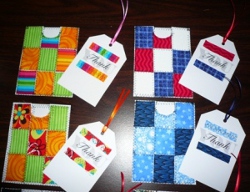 Photo Slider Card – If you saved a photograph of you and your loved one that you'd like to share, include it in your thank you card. A tutorial like this can be great for many other events throughout the year, so now is the perfect time to see the secret behind the slider.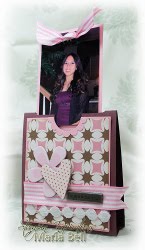 Embossed Christmas Cards – Got some new die cuts just begging to be used? Then you'll want to see the video tutorial we've got for these beautiful embossed cards. You can produce intricate designs in a matter of minutes, so making a whole stack of cards will cost you next to nothing and will have your personal touch.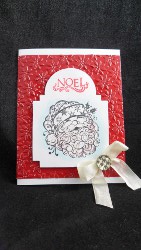 Crochet Christmas Cards – For a truly unique Christmas card, find some shimmering thread and get ready to crochet. You can touch up an old card or create something original; either way, whoever receives this will certainly remember it once they see how creative you were with your yarn skills.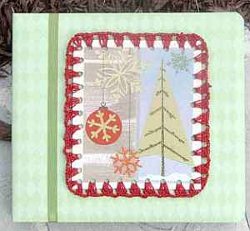 Stamped Holiday Postcard –  Postcards are another fun way for people to sending their greetings to each other, and now you can make your own using your favorite holiday stamps. This is another example of how saving money by making your own handmade cards is not only cost effective, but beneficial to your crafting skills and those who receive your high quality designs.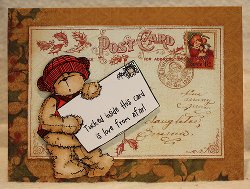 Christmas Pop Up Card – Another style of handmade Christmas cards that's very popular and will make very fun thank you cards are pop up cards. They'll immediately get attention, which will make the little message you can include inside even more enjoyable.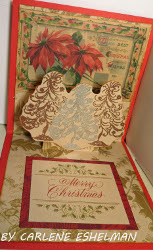 The new year will start with smiles for your friends and family once they receive the wonderful homemade Christmas cards you've made yourself. If you've seen something you like or want even more card ideas, check out our page for handmade Christmas cards.
How do you say thanks after the holidays?
AllFreeChristmasCrafts.com is a website dedicated to the best free Christmas crafts, tutorials, tips and articles on Christmas. AllFreeChristmasCrafts finds and delivers the best Christmas crafts from all over the web, from Christmas ornament crafts to Christmas craft for kids. We want you to have the Christmas of your dreams.
Latest posts by AllFreeChristmasCrafts (see all)
Print This Post