Perhaps you have a crafter on your list this holiday season? Or you, yourself would love to find a crafty tool under your tree this year? Well, we have teamed up with Sarah Moore from Craft Critique to bring you five hot craft products that you should ask for this year. Sarah talked about these great products on our December FaveCrafts Radio show, which you can listen to anytime, online! FaveCrafts Radio December Show
1. Martha Stewart Yarn and Knit and Weave Loom
Martha has done it again! Her new Knit and Weave Loom is the hottest thing in the world of yarn. And if that wasn't enough, she is also offering brand new yarn including Alpaca, Extra Soft Wool, and Cotton Hemp. This completely customizable loom allows for crochet or knitting and can be done in a variety of shapes and sizes. It would be a great gift for that yarn lover on your list or even someone who has wanted to learn a craft.
If you need to whip up some last-minute Christmas gifts, try out the versatile loom and luxurious yarns on a Beginner Montgomery Scarf and Fingerless Mitts, or try out one of these other great projects from AllFreeKnitting.com:

2. Electronic Die cutting Machine: Silhouette Cameo or eCraft by Craftwell
Whether you are a lover of paper or fabric, you will just love the wide variety of crafts you can do with the touch of a button on an electronic die cutting machine. These handy dandy cutting machines allow you to create your own designs on your computer or use their pre-made images. Perhaps you are throwing a Justin Bieber birthday party for your tween, you could make the invitations, party decorations, cupcake liners, and even custom tattoos with the Silhouette Cameo.
These two are perfect gifts for the ultimate papercrafter. Try the following amazing projects for impressive gifts and Christmas cards:
3. Hot Glue Gun Helpers by Cathie Filian for Plaid
The tools in this Hot Glue gun Helpers set are a great way to use a hot glue gun without feeling the burn! A great set in bright pink comprised of craft mat and a set of tools will protect your fingers and increase your precision crafting prowess. The kit is also great for Mod Podge, folkart paint, embossing, and use with craft glue. Try using it for styrofoam projects and on faux flowers for a neat and clean look with no sweat and no stringy hot glue stragglers. Any craft enthusiast would love this handy gift, and it's great for making quick and easy gifts with that oh-so professional charm.
Try out the following projects with the Hot Glue Gun Helpers for remarkable homemade Christmas happies:
4. Clover Crochet Hook Set and Yarn
The Crochet Master Steel & Aluminum Crochet Hook Set from CutRateCrafts.com makes the ideal gift for the crochet enthusiast in your family. The set comes in a classy vinyl case with helpful slots for each of the 16 steel crochet hooks and 8 aluminum crochet hooks inside—a set of 24 total hooks for any imaginable crochet project. Buy these for your crafty family members and friends and they'll be "hooked" in no time, making projects like this gorgeous In-the-Round Square Navajo Lap Blanket. Take advantage of this one-week special: $20 off the whole set!
Meanwhile, Red Heart Yarn makes some of the softest, coziest material for all of your winter needs. Scarves, blankets and more will be the talk of the town if you combine these two excellent gifts or use them to make apparel for your loved ones! Try these projects combining Red Heart Yarn and The Crochet Master Steel & Aluminum Crochet Hook Set: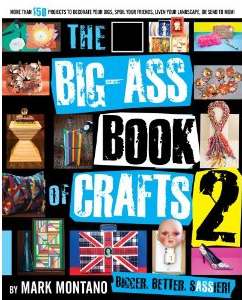 5. Books: Big Ass Crafts Two by Mark Montano,  The Burda Style Sewing Handbook, or Martha Stewart's Crafts and Keepsakes for the Holidays

Give these amazing books as gifts, or use them to create your own homemade gifts!
Big Ass Crafts Two by Mark Montano is chock full of DIY projects for every genre of craft imaginable. Mark has really outdone himself with this book. It includes over 150 projects that will be inspiring to any crafter. This book is a feast for the eyes with bright colors and funky patterns. The 21 chapters inside cover everything from jewelry to kids crafts.

The Burda Style Sewing Handbook succeeds at appealing to the entire sewing community. You can sew an entire wardrobe using the 5 patterns included with this book, as the book walks the reader through the process of tweaking patterns to change the style, fit, and overall look of a garment. You'll learn how to sew a skirt, a blouse, a dress, a jacket, and a bag with the patterns and instructions included in this book, and you'll also see variations of each pattern as conceived by BurdaStyle members.
Martha Stewart's Crafts and Keepsakes for the Holidays is one of Martha Stewart's latest books for the holiday season. Try the crafts inside for some thoughtful gift ideas and projects.
Latest posts by FaveCrafts
(see all)