Ladies, I've finally found a hobby you and your man can both enjoy: shopping at the hardware store! No really, hear me out. The hardware store jewelry trend has been on fire for some time with no sign of fizzling out any time soon. Why not combine the hubby's love of home improvement with your love of jewelry making with these hot hardware store jewelry tutorials? Perusing the plumbing supplies might just become your new favorite couple's activity. Check out these super chic hardware jewelry DIYs and clear your schedule for this Saturday, because you and your man have a date at Home Depot.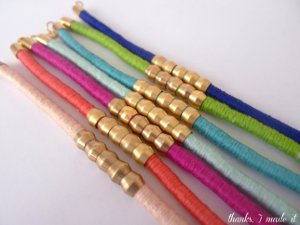 The shiny golds and coppers of hardware make the perfect complement to colorful jewelry materials. Take these Color Pop Hardware Store Bracelets, for example. They've been popping up all over Pinterest, and I can't get enough of them! The combination of the bright embroidery thread and the shiny gold hardware give these bracelets double the punch. They're so addictive and easy to make, you'll have to have one in every color.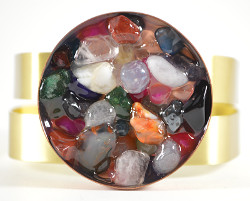 Bored with basic bezels? Take a trip to the hardware store and get inspired! That's how this Stones Set in Copper Bracelet was made. A copper test cap becomes a basin of a bezel ready to be filled with stones, crystals, and beads and then sealed up with jewelry making glue or epoxy. Nothing could be easier. Plus, this hardware store solution will save you a pretty penny; this copper cap cost only $1.50!
I'm in love with this DIY Utility Rope Necklace from Honestly…WTF. This DIY necklace project combines two trends in one: hardware and neons. The colors, textures, and materials somehow all combine together to create DIY jewelry magic, and I, for one, am under its spell. This statement necklace has a tribal vibe that I am totally digging.
Sometimes you don't need crazy colors and you can just let the hardware speak for itself. That's the aesthetic behind this simple DIY Hardware Necklace design from One of Each. Made with nothing more than rope and various hardware store supplies, this standout necklace needs no bells and whistles to make a statement. Pair it with a stark black tee for that edgy rocker effect.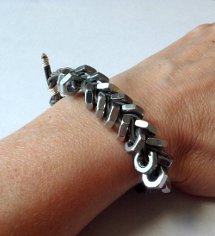 Hex nut bracelets are one of the most popular projects to come out of hardware jewelry mania. The great thing about the DIY Hex Nut Bracelet is that it's low on effort but big on impact. There are a lot of tutorials out there for making hex nut bracelets and probably many different ways to do so, but this one simply uses basic braiding to get the effect. It's super simple and still has that edgy, industrial, don't-mess-with-me look.
There's no need to choose between expressing your girly side or your edgy side. With hardware jewelry, you can show off both of those sides at once! Get more hardware jewelry inspiration with these free tutorials: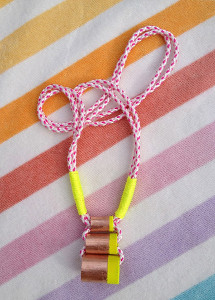 Would you wear hardware store jewelry?
Latest posts by AllFreeJewelryMaking
(see all)