It is almost time for the most romantic holiday of the year, and we are more than excited for it here at AllFreeHolidayCrafts.com! Valentine's Day offers some of the most gorgeous home decor options we have seen, which is why we fell in love with this collection of 20 Handmade Valentine's Day Decorations and are sure that you will too! From gorgeous ruffled wreaths to handmade Valentine's Day banners to fluffy holiday pillows, this list contains the best of the best Valentine's Day crafts that will give you a romantic holiday with a fun and flirty handmade touch. So go ahead and decorate around the house with one of our adorable buntings or banners, and cover up your front door with a frilly wreath to prepare your home for a little romance this February.
Handmade Wreaths to Love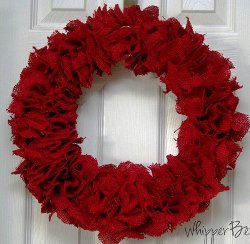 Handmade wreaths are one of the easiest and most popular options for handmade holiday decor, and why wouldn't they be? Simply adding a festive Valentine's Day wreath to your front door will be sure to give your entire home a burst of holiday cheer! Our 20 Handmade Valentine's Day Decorations lists 5 different wreaths that make perfect handmade Valentine's Day decorations. From ruffles to burlap, this list features a variety of styles suitable for any fashion sense!
Handmade Pillows for Valentine's Day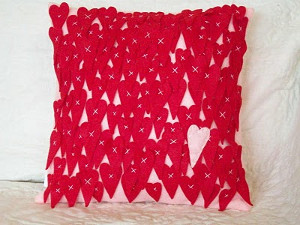 If you're going to fall head over heels this season, you may as well have something adorable to rest your head on! So go ahead and fall in love with these warm and cozy handmade pillows! Whether you prefer to smother your couch in kisses with our Smothered in Kisses Pillows or pink and white hues like our Reused Rags Valentine's Day Pillows, this list will give you plenty of favorable options.
With a bit of creativity and the help of these 20 Handmade Valentine's Day Decorations, you'll be ready for Valentine's Day in no time! Go ahead and add a dash of darling decor to your home this year to show off your love for Valentine's Day crafts.
What is your favorite way to decorate for Valentine's Day?
Latest posts by AllFreeHolidayCrafts
(see all)