Earth Day is in just two weeks! Are you excited? You should be! Earth Day is not just a holiday for granola-lovers, eco-friendly activists, and neo-hippies. It is also a day that everyone can celebrate with chic jewelry pieces and some awesome DIY projects. The Earth is important to celebrate, so honor Mother Nature with fabulous nature inspired jewelry pieces. Recycled jewelry is also a great way to show you care for the environment, but still want to maintain a sophisticated look. Wearable recycled crafts are an awesome way for DIY divas to save some cash while also going "green" and saving the Earth! Instead of tossing that plastic in the trash bin, turn it into the latest DIY jewelry trend.
AllFreeJewelryMaking has put together a list of some of the best nature inspired jewelry tutorials, recycled jewelry crafts, and other Earth Day inspired projects. Get started making these eco-friendly, holiday projects today, and celebrate, and contribute to a healthy, sustainable Earth.
Nature Inspired Jewelry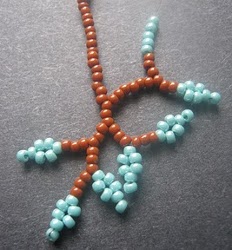 One way to show your Earth Day enthusiasm is with nature inspired jewelry pieces. Check out this tutorial on how to make a Beaded Leafy Fringe. Free beading patterns are so much fun to try, and this technique can be used for a variety of projects. From trees to stones, you are sure to find the right DIY jewelry piece inspired by nature for you.
Beachy Wire Sea Star Pendant
Everglades Inspired Seed Bead Necklace
Stone and Bone Bracelet
Ocean Stones Statement Necklace
Rustic Spring Branch Necklace
Mossy Forest Floor Necklace
Tree Branch Bangles
Recycled Jewelry Tutorials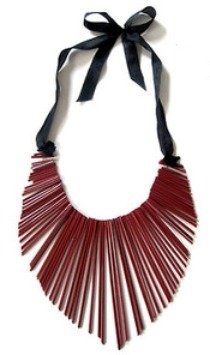 Anyone can make a beautiful bead necklace; challenge yourself by turning would-be garbage into glamorous accessories and make something totally unique, like this
Coffee Stirrer Spike Necklace
. Plus, don't forget, not all recycled jewelry has to come from the recycling bin. While it is great to turn trash into treasure, it is equally exciting to repurpose random odds and ends from around the house into bits and baubles for your next recycled jewelry creation. Use your imagination to create a unique, eco-friendly designs like a
Recycled CD Necklace
, other one of these other fabulous recycled jewelry pieces:
Even More DIY Projects for Earth Day
Once you look chic and sleek with your Earth Day friendly jewelry designs, you are going to be in the mood to create more exciting DIY Earth Day projects. From green crafting ideas to coffee filter flowers, we've got you covered with this collection of Earth Day crafts.
Refashioned Cardboard Storage Bins
Nature Journal for Kids
Recycled Decoupage Luminary Jars
Cute and Colorful Coffee Filter Flowers
Recycled Magazine Floral Wreath
Necktie Refashion Into Necklace or Wallet
Quick Fix Grocery Bag
25 Green Crafts for Earth Day
33 Earth Day Activities for Children
Earth Day is just around the corner, so start crafting these awesome eco-friendly projects today! Be sure to check out even more Earth Day projects from AllFreeJewelryMaking, AllFreeHolidayCrafts, AllFreeKidsCrafts, AllFreePaperCrafts, AllFreeSewing, and Fave Crafts.
How are you going to celebrate Earth Day?
Latest posts by AllFreeJewelryMaking
(see all)