This post is brought to you by Andre Smith.
Glass beads are so versatile. Not only are there several sizes, shapes, and types of glass beads, but you can use them in a wide variety of craft projects. Most of the time when people think of beads, the first craft that comes to mind is jewelry making, which is a very viable creative outlet for the use of beads. However, knitting, mixed media art, cross stitch, and home decor projects are also great areas in which you can use glass beads. Below are five great craft ideas and how you can incorporate the use of beads into them.
Mixed Media Art
Mixed media art has always been around, but lately the framed pictures with all manner of material used to create unique and eye-catching artwork has really expanded and become more a part of the art world. A canvas does not have to be a home simply for paint. Instead, you can use charms, pendants, pipe cleaner, pieces of magazines, scrapbook components, and virtually anything else you can think of to create art that is framed (without glass) and literally pops off the page. Glass beads are a great addition to this type of work, as well. A great example of this kind of craft is a Blank Board Book Flourish Cover, in which you can use a variety of craft materials to create a one-of-a-kind piece,
Scrapbooking
Scrapbooking is another area of crafting in which glass beads can become very helpful. Use some glass seed beads to add definition or use beads and ribbon to create a page edging or border. You can also take some glass beads and wire and create your own addition to the page, like a wire letter with beading or a wedding bell shape with a few crystal-like glass beads. The possibilities are endless when it comes to incorporating beads into your scrap-booking projects, and glass is a great option, particularly since glass beads come in so many different shapes so as to accommodate a wide variety of themes.
Knitting and Crochet
Knitting and crochet are two yarn crafts that are becoming increasingly popular. Adding a bit of beading to your knitting or crochet project can bring some extra elegance, charm, and class. One crafty example is the Silk Lace Bag. This looks like a simple crochet bag pattern, but the beads give it an unexpected look and texture. The tricky part about using glass beads in knitting and crochet is that you'll need to know exactly how many beads you need before you start, as you'll have to string them first. Then, let them rest down by the ball or skein of yarn until you need them, at which point you can just slide them up and use them in your knitting or crochet.

Silk Floral Arrangements
One area of home decor crafting in which you can incorporate glass beads is the creation of silk floral arrangements. You may have seen sand and river rock used in a vase with silk flowers to create an interesting and unique look. However, what you might not know is that you can also use glass beads to create the same effect. Whether you want to use chilli pepper shaped beads with red silk roses to create a kitchen accent or simple round beads mixed in with other mediums, using glass beads in the vase or base of your silk floral projects is a great way to add creativity and personality.



Wreath Making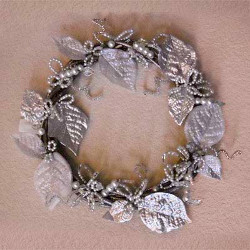 Another area of home decor crafting that benefits from the addition of glass beads is wreath making. Floral additions, birds, bird nests, butterflies, and a wide array of other items are available for those who craft wreathes. However, adding glass beads to the mix can add some sparkle and shine to your creation. Try using the wire from a bird or butterfly embellishment to string on some beads in beautiful colors, curling the end of the wire with pliers, then wrapping the beaded wire around some of the wicker or wreath. Instead of having an ugly wire you have to hide somewhere in the back, you now have a beautiful addition to the wreath, and it is less likely to poke or injure people who may arrange various aspects of the wreath, as well.
Glass beads provide the crafter with a wide variety of opportunities in nearly every area of crafting. From beaded lampshades to scrapbooks, mixed media art to wreaths, and even jewellery making, there are endless opportunities for you to express your creativity using glass beads.
Some of the information for this article was found on Just Fabulous Glass Beads.
Latest posts by FaveCrafts
(see all)