When I sat down to review Simply Modern Christmas: Fresh Quilting Patterns for the Holidays, I was expecting 80 pages of red and green quilts. Instead, I was greeted by page after page of sewing projects that would look just as great in June as they would in December. The author, Cindy Lammon, is a designer and blogger known for her floral patterns. With the 14 tutorials in this book, Lammon balances tradition and innovation by using basic shapes and bold fabric. Geometric shapes allow each pattern to pop. Plus, they are easier for beginner and intermediate sewists to piece together. I decided to pull together some stand-out projects that rely on the beauty of simple shapes. Whether they use circles, squares, triangles, or a combination of all three, these projects are chic and summery.
Squares: DIY Jewelry, Handmade Wreaths, and Granny Squares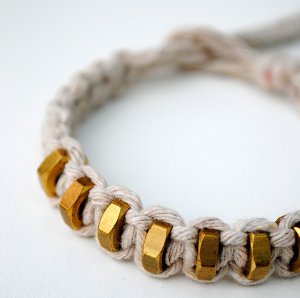 Knot and Nuts Bracelet – The light colored cord and gold hexnuts in this DIY bracelet contrast beautifully.
Thrifty Square Rose Wreath – Roses bloom in the summer, but you can keep these lovely buds on your door all year long with this handmade wreath.
Angel Heart Granny – Let your heart soar with this adorable granny square pattern.
CHRISTMAS BONUS: Snowflake Square Motif
Triangles: Handmade Baskets, Shawl Patterns, and DIY Necklaces
Wire Mesh Basket – This pretty DIY basket is modern and elegant.
Knotted Lace Shawl – Get warmth without weight for that cool summer breeze.
Blue Triangle Necklace – For a night on the town, you can't beat this handmade necklace.
CHRISTMAS BONUS: Knit Pillow with Aran Triangle
Circles: Handmade Wreaths, DIY Bookshelves, and Bracelet Patterns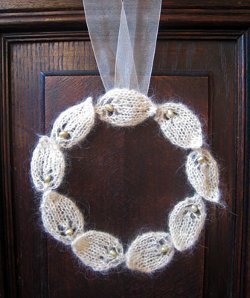 Circle of Leaves Knit Wreath – Play with different colors of yarn to make this wreath green for summer or red for fall.
String of Circles Bookshelf – The perfect gift for the high school grad who's heading for college.
Circles and Pearls Bracelet – This dainty DIY bracelet is a cinch to make.
CHRISTMAS BONUS: Circle Bell Ornaments
Hexagons: How to Make Your Own Bag and Crochet Rug Patterns
Drawstring Tote Bag – Great for little girls, we love the backpack-esque style of this purple and green bag.
Hexagonal Market Bag – Pick up your produce and store it in an eco-friendly bag.
Crochet Hexagon Rug – This hexagon rug pattern is small enough to fit in any room, but eye-catching enough to draw some attention.
CHRISTMAS BONUS: White Hibiscus Afghan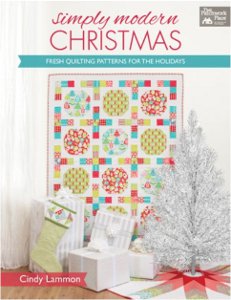 Enter for your chance to win a copy of Simply Modern Christmas: Fresh Quilting Patterns for the Holidays, a book of patterns for  quilts, table toppers, stockings, and more. Great for beginners and intermediate sewists alike, these patterns are universal, so a simple fabric swap makes them appropriate for any season. Read our full review here, and enter the giveaway here.
What geometric shapes do you like to use in your crafts?
Latest posts by AllFreeChristmasCrafts
(see all)