Christmas is still a long way away for many crafters, but quilters always need to be ten steps ahead. Knowing this, the editors at FaveQuilts have spent the past few months finding festive Christmas quilt patterns for just about anything you can imagine. Not only did we find beautiful quilted ornaments, tree skirts, and table decorations, but plenty of other free quilt patterns will bring some serious Christmas spirit into your home. If you're having trouble figuring out where to start, you're in luck, because we've just finished up our new free eBook for the holidays, The Best Free Quilt Patterns for Christmas: 10 Quilt Blocks, Christmas Ornaments to Make, and More.

Everything you need to turn your home into your own personal winter wonderland is in here. We chose some of our most popular free quilt patterns and quilt blocks that will really set the mood in any room, but this eBook also has plenty of smaller decorative options that are perfect for quilters with a full schedule. Instead of spending hours in line at the store, you can design your own tree skirt, stockings, and small quilted decorations using materials you already have and can easily put a festive twist on. Tis the season of thrifty quilting!
What you'll find in this eBook: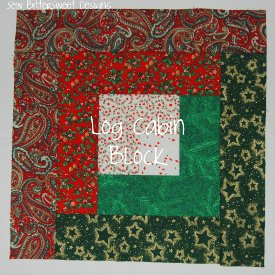 Christmas Log Cabin Quilt Block – Even during the holiday seasons, log cabin quilt blocks are still on the top of everyone's lists. This pattern will make a lovely addition to a full pattern, or you can make an entire log cabin quilt. It's subtle enough to also work well within a small quilt project, and the tutorial itself is a good one to save when you want to try using a certain color scheme with a particular quilting design like this.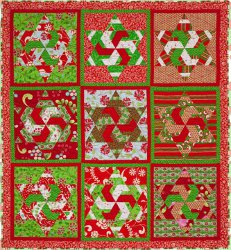 Candy Cane Stars Quilt – If you've got time for a big project, make it this hypnotic star quilt throw. The design itself looks a bit intimidating, but with the steps being broken down and accompanied by a helpful triangle template, you'll be confident that you can finish this before snow even starts to fall. A project this stunning will be an excellent addition to your living room's home decor; it'll be warm and cozy, but also impressive enough to draw attention to any spot.
Download a copy of The Best Free Quilt Patterns for Christmas: 10 Quilt Blocks, Christmas Ornaments to Make, and More – It's free!
If you like this eBook, you'll love:
Latest posts by FaveQuilts
(see all)