Every quilt needs to start somewhere, which is why quilters just can't go without quilt blocks. These small patterns are what make up the designs that bring the entire quilt together. Whether you like piecework, applique, or a combination of both, you know just how important the right block pattern can be. The editors at FaveQuilts have spent a lot of time looking for the very best quilt block patterns for you, our readers, and wanted our newest eBook to give you quick access to a number of different block patterns that you can potentially use for your next quilt. Before you start your next project, take a look at Patterns for Quilting: 8 Free Quilt Block Patterns to Make a Quilt for Your Home.
Quilters of all skill levels will enjoy the free quilt block patterns we've included in our latest eBook. We've included patterns that represent both traditional quilt blocks and contemporary quilt block patterns, with many of these designs also proving to be very useful for quilters looking for scrap quilt patterns. Each block pattern also represents a different style of quilting; you'll find a log cabin quilt block, a classic cathedral window quilt block, and more!
What you'll find in this eBook: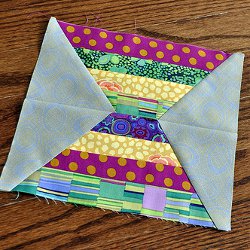 Sands of Time Quilt Block – As mentioned above, many of the quilt block patterns in our eBook are convenient ways to use up quilt scraps. In this particular piecework pattern, you'll learn how to use strip quilt piecing to make a block that looks like an hourglass. It may look a little tricky, but the pattern is actually quite easy and you can experiment with fabric designs in a number of ways depending on the look you're going for.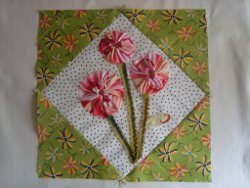 Pretty Popping Posies Block – We made sure not to forget some very cute and creative applique designs within our collection of quilt block patterns. This in particular block has been really popular because of the beautiful way yo-yos are used. This quilt block will be perfect for a new spring quilt pattern or a nature-inspired project that needs a little pop of color.
Download a copy of Patterns for Quilting: 8 Free Quilt Block Patterns to Make a Quilt for Your Home – It's free!
If you like this eBook, you'll love:
Latest posts by FaveQuilts
(see all)