On-loom beadwork is some of the most beautiful beading of all, but loomwork can be a bit intimidating to those who have never tried it. Between the bulky looms themselves and all those threads, loom beading can seem a bit scary, and many of us might have shied away from it–but not anymore! We've rounded up three simple bead loom patterns so you can finally tackle your fears and learn how to loom bead. Plus, not only will you find free bead loom patterns here, but you'll also find a tutorial for an easy and budget-friendly way to make your own bead loom. No more excuses! Here's everything you need to start learning how to loom bead today.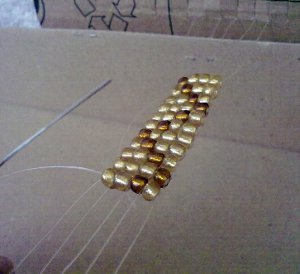 If you want to try loom beading but can't afford to splurge for a fancy loom, learn how to make a bead loom yourself with this tutorial! Making Your Own Bead Loom is easier (and thriftier) than you might think. All you need is a cardboard box, a ruler, and a few other common household items, and before you know it you'll have your very own handmade, budget-friendly beading loom.
Once you have your loom ready to go, start off easy with these Simple and Colorful Seed Bead Loom Bracelets. These basic beaded bracelets don't follow any kind of uniform or symmetrical pattern, so you can throw on any beads you like, no counting required! The organic shapes and assorted colors make these bracelets perfect for beginners, or just any beaders looking for a stash-buster project to clean out their seed bead stash. (Plus, this tutorial also includes instructions for how to make a bead loom, so if you're having trouble with the first tutorial, try this one!)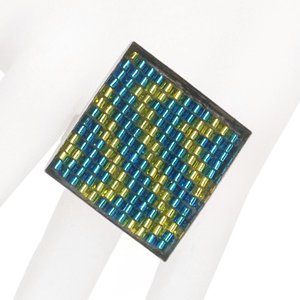 After you make some simple bracelets, you'll be ready to take on this Sizzling Zigzag Beaded Ring pattern. This bold seed bead loom ring lets you get some practice with an actual design (as opposed to the free-form style of the bracelets above) but still keeps it simple with just two colors, so it's a the perfect "next step" in your loomwork lessons. Plus, since it's a ring, it's a smaller loom beading project that won't be too overwhelming for your first try.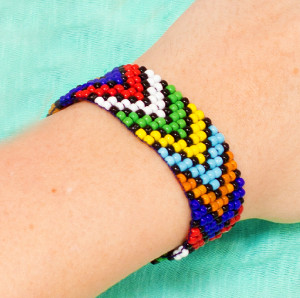 Now that you've gotten some practice working with different colors and patterns, you're ready to tackle this amazing African Bead Loom Bracelet! The bold colors and design of this bead loom bracelet pattern make it a real show-stopper, but don't be intimidated. All it takes is careful counting and planning to weave this beautiful beaded bracelet for yourself. Everyone will be so impressed when you tell them you wove this bracelet yourself!
This giveaway is now over.
Enter to Win a Bead Loom!
Don't want to make your own bead loom and can't afford to buy one? Enter our Jewel Loom Giveaway! We're giving away a Beadalon Jewel Loom to one lucky winner, and it could be you!
The Jewel Loom, designed by Julianna Hudgins, is making loom beading easier, more accessible, and more affordable than ever before. Light, portable, and handheld, this basic beading loom eliminates all those complicated threading mechanisms, making loom beading totally stress-free.
The deadline to enter is October 7, 2013, at 11:59:59 p.m. Eastern Time. You can enter up to once a day, so keep coming back to improve your chances of winning!
Tell us, do you like off-loom beading or on-loom beading better?
Latest posts by AllFreeJewelryMaking
(see all)