Even if you're not excited about football season, chances are there's someone in your house who is. At FaveCrafts, we've been preparing for this for months, so we have a real treat for all of you pre-season crafters. We've picked out some of our best football-inspired crafts that we think your whole family will love. Whether you're going to be in the stands or on the couch, you'll find something below that you'll want to tackle.
Taped Up Tushy Cushion – When you're not jumping out of your seat in excitement for the home team, you're going to be sitting on bleachers that might be less-than-comfortable. Be sure you're prepared with this ingenious craft project that doesn't require any sewing at all. It'll be just like sitting at home on a nice sofa, which will help keep even the most restless family members happy in their seats.
Stuffed Toy Football – In case you don't have a real football on hand, you'll always have a backup that you made yourself. This football is fun for both little children and small pets, so if you're watching the game at home, this will keep them occupied and safe. The best part is that if it breaks, you can stitch it right back up again (much cheaper than replacing a real ball).
Football Field Tailgating Table – If you want to really score points with your sports fan at home, try out this DIY table. Not only is it durable and inexpensive, but it can also be customized to support your family's favorite team. A design like this is sure to have all of your guests rushing to get seconds.
Team Pride Jersey Tote – If you're attending a lot of games this season, you'll need a strong defense against boredom and hunger. This sporty tote bag is an easy sewing project that you can create from an old jersey and can hold everything you'll need on the go. It's the best of both worlds; representing your favorite team and having what you need to keep your family occupied.
Team Pride Bottle Cozy – Team spirit doesn't have to stop at wearables and decorations; it can also be represented through your refreshments. This crochet cozy is the perfect blend of form and function, as it's a creative way to show your support, but also to keep your hands warm on chilly autumn game nights.

Easy Striped Scarf – One of the toughest things about fall sports is how unpredictable the weather can be. You don't have to worry if you get ahead of the game and make some scarves for your family. They're easy, fashionable, and wearable options for both genders. Be on the offense against the cold this year without losing a sense of style.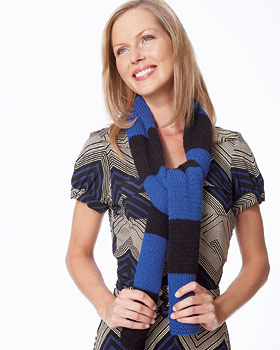 You'll be your family's MVP if you prepare for the upcoming football season with some smart crafting. If you loved these projects, head over to our site for even more football-themed crafts!
What's your favorite part of football season?
Latest posts by FaveCrafts
(see all)