Jo and Kelli Kramer are longtime favorite designers on FaveQuilts. Their frequent updates with new, crystal-clear quilt tutorials and clear quilting expertise has led many of their tutorials to the top of FaveQuilts' top clicked links. From beautiful full-bed quilts like the Oz's Log Cabin Quilt Pattern to quiter lifesaver's like the Easy Race Quilt Strip Calculator, Jo & Kelli are at the forefront of quilt blogging. We asked them to talk a little about their experience as quilters and bloggers and hope you'll enjoy their answers as much as we do!
1. What first drew you two to quilting?
We are so fortunate. We have a line of quilters and seamstresses that came before us-mothers and grandmothers both. We were always drawn to it.
2. What do you think categorizes most of the quilts you two make? What types of patterns are you typically most attracted to?
This is a hard question because we like it all. We love to see the new trends but we like vintage and Civil War quilts too. I guess over all we could say that scrappy quilts are our favorites.
3. What advice do you have for quilters who are on the verge of (or nervous to) take the next step, from easy to intermediate/advanced quilting?
JO: Oh my, take the leap!! For years I was scared to death of curved seams and never thought I would try a double wedding ring quilt. I thought my piecing skills just weren't up to it. Then I had two kids get married and both requested double wedding ring quilts. Surprisingly, they truly weren't that hard to make!! In fact, I made two in nine months!
KELLI: There are still things that I am a bit afraid of, but I think that it is best to start small. You could make a couple of test blocks to see if the new technique you want to try out will be something that will work for you. If you decide that it's not, you can always turn the few blocks that you tried into a table runner that will make a beautiful table runner!
4. When you set out to design a new pattern, what are your first steps?

For us, Jo typically starts with some quilt block she saw in a vintage quilt book or a quilt she saw at an antique shop. We also play the "what if" game asking ourselves "what if" we turned the block…"what if" we changed this portion to a different color. The "what ifs" continue until we have our quilt.
5. From where do you draw inspiration?
Everything is inspiration….color palettes, fabric lines, trends, vintage books and antique quilts. We design many more quilts that we make.
6. Do you make your patterns on a computer, by hand, or by some other method?&
Jo does most of the designing all via the computer. Kelli does some work with graph paper but most are from the computer.
7. What's the greatest or most helpful "quilting secret" you've learned or created during your years of quilting? (For example, a trick to cutting half-square triangles, the key to mastering free-motion quilting, etc.)
KELLI: Right angle rulers and the companion angle rulers have helped save me time when cutting out a quilt—especially when Jo designs one that needs 2,592 half square triangles. I've also learned the importance of making sure that you are comfortable when sewing. I used to get really bad back aches because of the chair that I was sewing on, but with a quilt little change, it was fixed.
8. Do you have a favorite quilt that you've made? Or one that you've seen, that you wished you designed?
JO: I really don't have a favorite. Typically it's whatever quilt I just finished. I think I am most proud of the free form quilts I made with itty bitty fabric scraps that you can see here and Kelli's wedding quilt.
KELLI: I think that my favorite quilt that I have ever made was this one—Odds and Ends in the June 2010 edition of American Patchwork and Quilting. It was the first 4 or so quilts that I made and looking back, it was quite an undertaking for my skill level at the time as the smallest inner pieces finished at only a half of an inch. I could definitely tell that my sewing skills had improved when I went back to finish it almost 2 years later!
9. What is your favorite part of the quilt-making process?
JO: I think I like the designing the best. I know my least favorite is cutting and pattern writing.
KELLI: I really like getting the fabrics in and getting a good look at our chosen fabrics. Because most of the quilts that we are currently making or have recently made are ones that mom has designed, it is also nice when I have cut out the quilt and finished the top and know that I didn't mess up when figuring the yardage. My least favorite is putting on borders (unless they are pieced and can be pinned) and writing the patterns, however I know that mom hates writing the patterns more, so I can usually talk her into adding my borders for me if I write the pattern.
10. A newbie quilter approaches you in a café and says, "I don't know if I really want to start quilting. Can you give me three reasons why I should?" What reasons do you give him or her?
1. Quilting is awesome therapy (and its cheaper too!).
2. It's a way that I can feel connected to my family- in the connection that I share with my mom, as well as the connection that I never had the opportunity to share with my grandma.
3. It is an extremely satisfying feeling to finish something that you have made of yourself to keep in your home or give as a gift.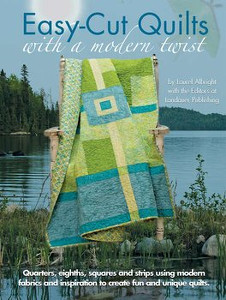 DON'T FORGET! Win a copy of Easy Cut Quilts with a Modern Twist from Landaur Publishing! Easy-Cut Quilts with a Modern Twist asks not, "what design does this quilt use?" but, "how does this quilt's design affect its overall aesthetic?" Each of the seven deceptively simple quilts in this book are distinct, beautiful and, most importantly, constructed from a wide variety of materials, from pre-cuts to scrap fabric.
The deadline to enter is July 1st at 11:59:59 p.m. Eastern Time.
What is YOUR favorite part of the quilt-making process?
Latest posts by FaveQuilts
(see all)