Christa Watson is one of our most prolific quilt designers. She is one of our foremost experts, providing her readers with full-length quilt-alongs (like the How to Sew a String of Pearls Quilt quilt-along) and nitty-gritty quilt how-tos, like Basting a Quilt with Safety Pins and Making Your Own Design Wall. From beginner quilters to wizened experts, Christa's blog is full of amazing tutorials to keep any quilter busy at his or her machine!
1. What first drew you to quilting?
I've always been drawn to arts and crafts and tried many mediums until I found one that stuck! About 20 years ago some ladies from church were tying quilts for charity and invited me to help. I was instantly hooked with the tactile nature of the quilts, and with all the colors and patterns in the fabrics they were using. It was love at first stitch!
2. What do you think categorizes most of the quilts you make? What types of patterns are you typically most attracted to?
For the first 18 years of my sewing career I was mainly a traditional quilter. However, I discovered modern quilting about 2 years ago and have totally switched my style because of it. That's all I make now. I love bright, clear colors, clean lines and lots of negative space for machine quilting.
3. What advice do you have for quilters who are on the verge of (or nervous to) take the next step, from easy to intermediate/advanced quilting?
I would say to just take it one step at a time. I don't think advanced quilting is hard per se. I just think it takes more time and patience. Whenever I am learning a new technique, I allow myself extra time to figure it out so I don't get frustrated.
4. When you set out to design a new pattern, what are your first steps?
When I have new idea, I will sketch it out on the computer and manipulate the block design or quilt design to see the different layouts I can come up with. Once I settle on one I like, I take time to color it using fabric swatches downloaded from manufacturer's websites. I will often save different color combinations of the same pattern and it's amazing how different colors can change the overall look of a pattern.
5. From where do you draw inspiration?
From literally everywhere! Most of my newer work is very graphic in nature and I take a lot of pictures. When I'm out and about I will see lots of interesting shapes and combinations in nature and architecture. I capture them and think about how I can turn what I see into a quilt design. I also read a lot of quilting books and magazines to get in idea of what's trending. If I see a particular motif being repeated a lot (like chevrons) I will come up with my own take on it.
6. Do you make your patterns on a computer, by hand, or by some other method?
I design everything on the computer, using Electric Quilt software. I love being able to change things up with the click of a button and save several different versions of my ideas. I write up directions using word processing software and then import my computerized sketches into the pattern. I take lots of pictures while I'm making the quilts so I will use those, too.
7. What's the greatest or most helpful "quilting secret" you've learned or created during your years of quilting? (For example, a trick to cutting half-square triangles, the key to mastering free-motion quilting, etc.)
One of my personal mottos is, "It just takes doing." What it means is that I believe you can accomplish anything you desire, whether it's tackling a hard quilting design or deciding to design and publish patterns. The first step of taking action is usually the hardest, and it just gets easier from there! To go along with that, I believe practice makes progress when it comes to quilting.
8. Do you have a favorite quilt that you've made? Or one that you've seen, that you wished you designed?
One of my favorite quilts is my String of Pearls quilt that is listed on the FaveQuilts website. That's one of my most modern both with the piecing and quilting, and it's been very well received.
9. What is your favorite part of the quilt-making process?
By far, my favorite part of the process is quilting on my home machine (a Bernina). One of the reasons I enjoy making graphically simple quilt patterns is so that I can have fun with the machine quilting!
10. And now the big one! A newbie quilter approaches you in a café and says, "Christa, I don't know if I really want to start quilting. Can you give me three reasons why I should?" What reasons do you give him or her?
 Quilting is cheaper than therapy! And probably much more satisfying. If I'm having a bad day, putting in a few stitches on a current project really brightens my day and makes me feel like I can take on the world.
Revel in the joy of the hand made. Quilting is something in my life that allows me to slow down and enjoy the process. Each step is like a new adventure and when a quilt is complete, there's nothing quite like the joy and satisfaction of saying, "I did it myself."
It's also very social and a great way to make friends. Whether you share with others online or in person, taking part in the quilting community is just as thrilling to me as the actual making. Plus, they say that doing creative things can help you live a longer, more satisfying life. How could I say no to that?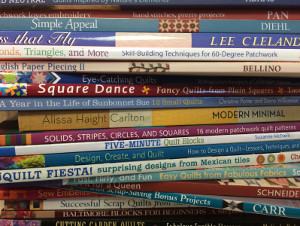 Like Christa's Quilts? Then you'll love the quilt patterns in these amazing free pattern books! FaveQuilts is cleaning out the closet so you can win a random assortment of incredible quilt patterns and technique tutorials from the FaveQuilts libary.
The deadline to enter is June 16, 2014 at 11:59:59 p.m. Eastern Time.
Do you have any other questions for Christa, or a question you'd like us to ask in our next FaveQuilts Talks installment?
Latest posts by FaveQuilts
(see all)