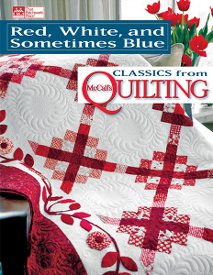 With the Fourth of July coming up, it's prime time to get ready for patriotic fireworks, delicious American cooking, and picnics with family and  friends. As you're kicking back on the green grass and enjoying the fireworks, a festive picnic quilt is a must. Luckily, the editors at FaveQuilts have you covered. Quilters can find a wide variety of star-spangled and patriotic quilt patterns when they enter to win our latest book giveaway for Red, White, and Sometimes Blue: Classics from McCall's Quilting.
As the title indicates to readers, this wonderfully creative books takes a simple color scheme and lists a multitude of versatile quilt styles and patterns–all using different pairings of red, white, and blue. From easy star pattern quilts to advanced quilting techniques, this book offers over 15 different combinations of the classic color scheme that will inspire and amaze all levels of quilters. You'll be stunned at how something as basic as a three-color scheme can make any quilt look absolutely amazing.
Before judging Red, White, and Sometimes Blue: Classics from McCall's Quilting by its colors,  readers will be pleased to know that this fabulous guide is not all that is appears to be. While a red, white, and blue color scheme usually evokes patriotic themes, McCall's Quilting's' book is actually organized into three different sections of color combinations to create limitless options for making quilts all year long.
First comes "Red and White Quilts", which displays patterns containing deep reds and crisp whites to create lovely quilts with a classical feel. This section features a variety of Christmas quilt patterns and will become especially valuable in December!  Readers will enjoy how every pattern comes with a small introduction that explains the quilter's inspiration and self-expression through their use and arrangement of particular colors. If you're looking to make a cozy quilt during those colder winter nights, turn to the section featuring "Blue and White Quilts", which includes beautiful star quilt patterns and snowflake designs with a burst of color to add beautiful cool tones to any larger quilt. Finally, the section called "Red, White, and Blue Quilts" will make you proud to be an American through an ingenious array of patriotic quilt designs.
Whether you're interested in making a beautiful Fourth of July picnic quilt or a festive Christmas quilt pattern (or both!), Red, White, and Sometimes Blue: Classics from McCall's Quilting is a fantastic book to keep you inspired all year round. You have until July 18th to enter to win Red, White, and Sometimes Blue with 17 quilt patterns complete with templates and quilter anecdotes.
What is your favorite color scheme to quilt with?
Latest posts by FaveQuilts
(see all)