Ty Pennington's Fall 2012 Impressions Collection for Westminster Fibers is a modern, richly colored collection full of interesting and eclectic prints. The collection includes 12 different prints in two different color palettes for a total of 24 gorgeous fabrics. In shades of lime green, aqua, yellow, orange, pink, and maroon, this line features a full spectrum of hues. No matter which of these fabrics you fall in love with, you'll find some way to use them in a quilt, clothing item, accessory, or decoration.
The Fall 2012 Impressions collection is separated into two distinct colorways. The blue-green fabrics that remind you of blue skies and deep water all fall into the Eventide color palette, while the warm reds, golds, and pinks are all part of the Sunset palette. This balance of warm and cool colors makes the Impressions line a complete collection that will appeal to many different styles. Within each color palette, the Impressions line offers 12 different prints. Most of the prints are intricate patterns inspired by nature or traditional cultural patterns. This amalgam of different designs and styles gives Impressions it eclecticism and allows it to appeal to crafters with diverse tastes and styles.
FaveQuilts.com is giving away a fat quarter bundle of Ty Pennington's Fall 2012 Impressions collection to three lucky winners. You could be one of them!
Learn more and enter to win here.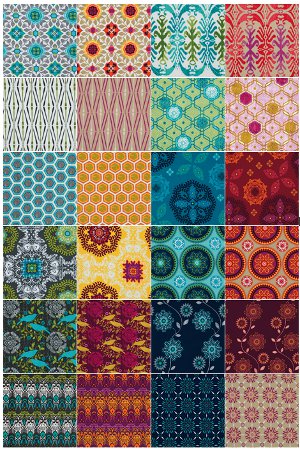 Contest ends March 5, 2013. You can enter once daily, so return often to improve your chances of winning!
Latest posts by FaveQuilts
(see all)