Print This Post
If you've always loved the fashionable and eclectic fabric designs from Liberty, now you can get them in cotton fabrics meant for quilting, sewing, and crafting. The Bloomsbury Gardens collection is the debut line of the Liberty Lifestyle craft fabrics. Bloomsbury Gardens is a wide-ranging collection of fabrics inspired by Bloomsbury Square in London, which is known for its gardens. Accordingly, the Bloomsbury Gardens collection features eleven distinct floral prints in five different color palettes. Bloomsbury also served as a gathering place for a group of writers, artists, and intellectuals known as the Bloomsbury Set. Each of the eleven prints bears the name of one of these famous historical figures.
The five palettes of the Bloomsbury Gardens collection each focus on specific tones and color combinations: Rich Red & Blue, Pastel, Magenta & Teal, Pale Blue, and Natural Brown. This review covers five prints in the Magenta & Teal palette. Ranging from a tiny magenta and white floral design reminiscent of calico to large and colorful floral prints. Paisleys also feature in this collection, giving it a bit of a Bohemian feel. All of the fabrics in this palette feature both teal and a rich, reddish magenta, making them easy to pair together in quilts and other projects.
FaveQuilts.com is giving away one fat quarter bundle of Bloomsbury Gardens to one lucky winner. It could be you!
Learn more and enter to win here.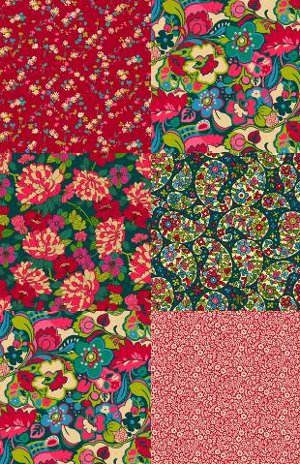 Contest ends January 22, 2012. You can enter once daily, so return often to improve your chances of winning!
Whether you're just learning to quilt or you're a seasoned veteran, FaveQuilts has the free quilting patterns and charts you need! Create Jelly Roll quilts, tote bags, baby bibs, even quilted jewelry.We have a bustling community of quilters just waiting to share their ideas with you and welcome you into the family.
Latest posts by FaveQuilts (see all)
Print This Post