'Tis the season for picking! Fall is all about that juicy, round fruit that starts with an A, which means that crafting a ton of apple projects over the next few months is totally allowed. Apple crafts are amazingly versatile, and they appeal to crafters of every age. We use these adorable snacks to help teach little ones the alphabet, and they double as amazingly festive fall crafts. There's so much more where these fresh finds came from, so if you're itching for more apple, we've got you covered.
1. Apple Art for Preschoolers
2. Apple Cupcakes
3. Apple Scented Cloud Dough
4. Apple Jar
5. The Easiest Apple Craft
6. Apple Pretzels

7. Pom Pom Apple Tree
8. Melted Crayon Apples
9. Paper Apple Garland
10. Paper Bag Apples
11. Adorable Apple Jar
12. Apple Krispies
13. Cost Free Apple Tree
14. Plastic Bottle Apple Gift
PLUS: Wormy Apple Craft
I adore how all of these crafts are modeled after the same object, but they're all unique and fabulously different. From the easiest fall crafts for kids that are made from household items to rustic decor you'll love to show off, this group's got it all.
Fall Crafts for Kids to Gift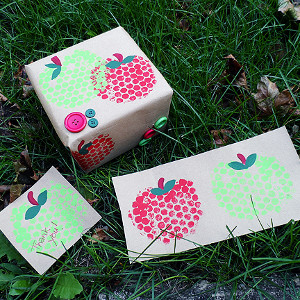 Whether you'd like to say thanks to your teacher, give a nod to a friend, or make someone smile, there's an app(le) for that! Gift the Apple Jar as a present in and of itself, or use the Plastic Bottle Apple Gift or Paper Bag Apples as a way to wrap up fall treats. If you want to take your apple accents even further, wrap a gift with Apple Stamped Paper, which looks fantastic but can be made by preschoolers. While winter is "the season of giving," I like to think that fall isn't far behind. After all, who needs a specified month to put a smile on a friend's face?
Fall Crafts for Kids to Eat
A kid's gotta eat, so the food might as well be adorable! Snack on Apple Cupcakes or Apple Krispies for a fun fall treat after school. If you've been apple picking and want to cook with your finds, try making Slow Cooker Cake Mix Apple Cobbler, Simple Slow Cooker Apple Pie, or Slow Cooker Apple Bread. Help Mom make it in the morning, and it'll be ready to devour when you come home from school.
What's your favorite way to work with apples?
Latest posts by AllFreeKidsCrafts
(see all)