I hate tablecloths. It seems as though every single time I put a freshly laundered one on the table, someone spills on it. Rather than policing my guests or having small panic attacks every time somebody passes a dish, I've decided to take a different tack: placemats. Placemats are simple to make, easy to clean, and are fun additions to your table setting. At FaveQuilts, we have a ton of easy quilted placemat patterns for every season.
Easy Quilted Placemat Patterns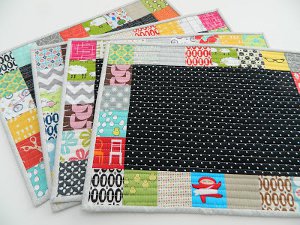 If I don't have the time to wash my tablecloth after every meal, I certainly don't have the time to slave away over placemats. Luckily, there are a ton of easy quilted placemat patterns that I can put together in less than an hour. There's a wide variety of designs, from rustic patchwork placemats to kid-friendly placemats that will keep the little ones entertained throughout the meal.
Perfect Patchwork Placemats
I Spy Quilted Placemat
Charming Charm Pack Placemats
Table Crafts Made from Fabric Scraps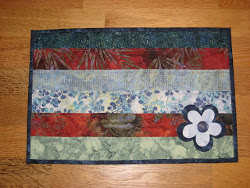 Unless I win the lottery soon, I don't have as much money as I'd like, so I'm always looking to save a couple bucks. I'm also a bit of a neat freak, so crafts made from fabric scraps are definitely appealing. Give your neglected scraps new life with some of these patchwork placemats. Although they use a mishmash of patterns and colors, these easy sewing projects with scraps can still look gorgeous. Plus, once you're done crafting, you'll have a ton of room to start collecting your next batch of scraps.
Scrappy Rainbow Placemats
Easy Strip Pieced Placemats
Scrappy Stripes Quilted Placemats
Quilted Mug Rugs, Quilted Coasters, and More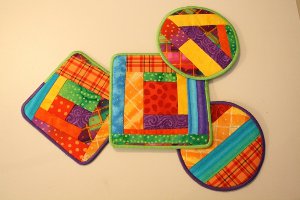 FaveQuilts has hundreds of sewing crafts for the kitchen like free quilted mug rug patterns, quilted coaster tutorials, table topper patterns, and more. A mug rug is a fun and simple way to dress up your desk at work. Quilted coasters are a surface-friendly alternative to stone coasters, and table toppers give any table setting instant style.
Elegantly Embroidered Mug Rug
Colorful Log Cabin Quilt Coasters
Sunshine Sunflower Table Topper
The projects listed here are only a few of the decorative crafts that quilters can make for their homes. If you'd like to freshen up your home decor, check out Home Sweet Quilt: Fresh, Easy Quilt Patterns from Jillily Studio.
This book contains 12 new quilt patterns organized by room. Within these pages you'll find patterns for table runners, dish towels, pillows, lap quilts, and more. This book is also full of great tips that will inspire you to design some of your own projects.
Enter to win a copy of Home Sweet Quilt: Fresh, Easy Quilt Patterns from Jillily Studio. Read the full book review here, and check out our giveaway page to enter the contest. The deadline to enter is February 18, so try your luck today.
Do you use a tablecloth or placemats to protect your kitchen table?

Latest posts by FaveQuilts
(see all)