Yesterday was the first day of spring, and over at AllFreeHolidayCrafts we only have one thing on the brain: Easter crafts! Head on over to our latest collection, and discover 9 different ways to hop into Easter.

As soon as you open your free eBook, Fun Easter Crafts: 9 Easter Decorating Ideas, you'll find yourself wrapped up in an assortment of cute and simple decorating ideas for your home. Don't worry about setting up the same 'ol decorations again this year, you'll be able to afford brand new Easter decor with our handmade guide! It's time to get your house in the Easter spirit, and Fun Easter Crafts: 9 Easter Decorating Ideas is the simple solution for crafters.


Easter is a fun holiday that helps welcome the spring season; open up your windows, let the sun in, and start working on these cute decorations! These awesome Easter crafts celebrate the best parts of spring: bright colors, baby animals, and, of course, Easter candy. These great projects will add much needed color to your home after the long—unreasonably cold—winter. Quick, fun, and simple, these projects would also be great to do with small children. Bunnies, eggs, and lambs are all holiday staples for your seasonal Easter celebration, and you will find multiple projects with these themes in Fun Easter Crafts: 9 Easter Decorating Ideas.  Don't dwell on the cold winter, brighten up your home and welcome the sunshine season with these fun Easter crafts for the home.




Decorating for a new holiday is the best way to start feeling the warmth of the season. Start with the Hoppy Easter Wall Hanging (pg. 4). With this cute wall decoration, you'll be able to greet your guests with a special message from the bunny himself. Once you have finished your wall hanging, focus on the front door and try your hand at the Fluffy Feather Easter Wreath tutorial (pg. 7). This adorable Easter decoration can be put together in just four simple steps with the help of your trusty hot glue gun. Find them both inside Fun Easter Crafts: 9 Easter Decorating Ideas!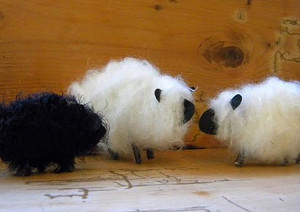 Looking for ideas that the little ones can join in on? Don't fret; Fun Easter Crafts: 9 Easter Decorating Ideas has just what you're looking for. Set up a station and work on a set of Springtime Baby Carrots (pg. 23) with the kids. These cute carrots are so creative, you won't believe how simple they are to make. Perhaps the best of the Easter crafts for kids included in this eBook is the Fuzzy Yarn Sheep (pg. 24). Finding kid-friendly Easter decorating ideas that are as cute as this one can be a challenge, but with  this craft, you're on your way to a fun activity.


From Easter decorating ideas you can work on yourself to family-friendly Easter crafts for kids, this selection of holiday ideas is the perfect one for any crafter looking for a new sense of holiday style! Grab your free, printable copy of Fun Easter Crafts: 9 Easter Decorating Ideas today!


What is the greatest Easter craft that you have ever made?

Latest posts by AllFreeHolidayCrafts
(see all)