Turquoise might just be the most beautiful shade of blue that there is. It is reminiscent of mermaids with pretty blue eyes and the entire sea for them to roam. The ocean's greatest treasure is the lovely greens and blues that inspire us so much. These DIY jewelry ideas are all little mixtures of aquas and sea greens. In other words, we have turquoise jewelry for all tastes here. You can learn how to make pendants that capture the beauty of the ocean and you can find DIY beaded jewelry for nearly any occasion. Don't be afraid to open this treasure chest of tempting turquoise jewelry. All the riches of the sea can be yours with these easy tutorials and jewelry inspirations. Dive in to the big blue world of turquoise accessories and discover why we love this cool shade of blue so much.
When I was younger, my favorite color was blue. Now that I'm getting older, I am beginning to love green more and more. Turquoise is the perfect way to reconcile my old and new color preferences. I hope you enjoy these lovely pieces of jewelry as much as I do.
How to Make Bracelets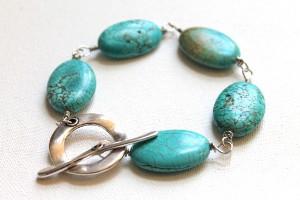 Learn how to make beautiful blue bracelets to slide upon your wrist with these two cute DIY bracelet ideas.
Turquoise Potato Bead Bracelet
How to Make Earrings
Pull up your hair and adorn your ears with these beautiful earring ideas. Your friends will surely turn turquoise with envy once they see your new DIY accessories. My personal favorite? The Teal and Turquoise Earrings that look like adorable birds! If only I had my ears pierced, I would create them in a heartbeat.
Southwest Spirit Turquoise Earrings
DIY Beaded Jewelry Sets
If one turquoise accessory just isn't enough, try creating an entire jewelry set for you to enjoy. These blue beaded beauties will ensure that you look like the belle of the ball. Dress up any outfit with some homemade turquoise jewelry, and all eyes will be on you. Don't forget to show the world those pearly blues!
Tickle Me Turquoise Jewelry Set
Blue and Turquoise Spiral Rope
How to Make a Necklace
His eyes will be on you the whole night with these lovely DIY necklaces and pendants
Super Easy Turquoise Bead Necklace
Earthy Wood and Turquoise Necklace
With these extra
145 Jewelry Making Ideas
, you will find everything from friendship bracelets patterns to DIY hair accessories to hemp bracelet patterns.
What is your very favorite shade of blue?
Latest posts by FaveCrafts
(see all)