Doesn't winter feel like it's been going on forever? Though spring technically rolled in on March 20th, those winter blues may be still nagging some of us. Don't worry; at AllFreeJewelryMaking, hope springs eternal. Battle the blues by checking out and trying out Beader's Digest: The 34 Prettiest Beading Designs and Patterns You've Ever Seen. Every one of these dynamite DIY jewelry designs is a remedy for the old melancholia.
Just because nature is taking her sweet time getting gussied up for spring doesn't mean you have to. These DIY jewelry designs manipulate beautiful beads into different bracelet, necklace, ring and earring designs. These are beading designs and patterns that are positively lovely. The tutorials featured in this collection of  jewelry designs will equip you with the skills to spring forth from any lingering winter blues. Step into the new season with a refreshed attitude and awesome accessories to boot.
Yes indeed, ladies and gentleman, our antidote to being down in the dumps will surely revitalize you. If you're in doubt, here's a little sample of our prescription.
Beautiful Beaded Bracelets to Kick the Blues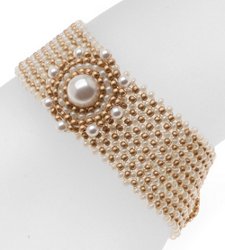 We recommend bed rest and beading bracelet designs to lift your spirits. These DIY bracelet patterns are a great way to relax and enjoy some "you" time. In these bracelet beading designs and patterns, you'll find various ways to make a bracelet. Whether you're fond of stitching or stringing you'll find a project in this collection that will pep you up. Take this Grace Kelly Woven Bracelet, for example. The name itself is enough to make you smile, let alone the intricate stitches that make up this bracelet.
Earring Patterns to Cure the Cheerlessness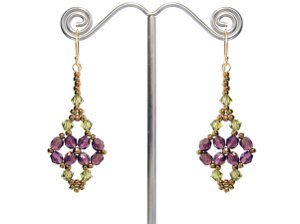 If you want to brighten up your day, learn how to make earrings. I always find earrings that I want to buy, but grumble at the price. These easy earring patterns put an end to the grumbling. I found these Victorian Flaire Earrings particularly striking. They look identical to something I'd see at a boutique. Make these DIY earrings, and any of the featured beading designs and patterns, for a fraction of the price you'd find in a store. I can't help smiling at that.
A Spoonful of DIY Necklace Designs to Conquer the Gloom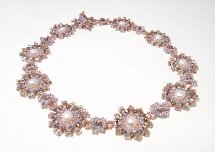 DIY necklace designs are an excellent way to feel like a new woman. If you make any of these featured necklace crafts, you can transform an outfit from glum to glam. I've pulled this Lilac Rosette Seed Bead Necklace from the collection of Beader's Digest: The 34 Prettiest Beading Designs and Patterns You've Ever Seen to show how seasonal these crafts can be. Note the beautiful lilac color in this floral-like necklace pattern. It's the perfect DIY necklace to herald spring.
Remedy Ring Patterns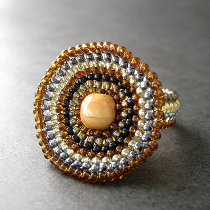 Our final remedy for you is this collection of DIY ring patterns. These are my personal favorites. A ring can go a long way in making you love your look. Plus, it's an excuse to get a manicure. I wanted to sharpen up my stitching skills and found I could from this Circular Brick Stitch Tutorial. These are so much fun to make and look great. The answer to a refreshing attitude lies in Beader's Digest: The 34 Prettiest Beading Designs and Patterns You've Ever Seen. If you try out these jewelry designs you're going to like the way you feel; we guarantee it.
Do you have a favorite piece of spring jewelry?