Penguins are one of my favorite animals, and penguin crafts are a great way to add my Christmas decorations. They are so cute, and since penguins are a winter animal, I can keep my penguin decorations up all season long. It keeps the Christmas spirit around all winter, and who doesn't want Christmas to last longer? It's the most wonderful time of the year!
There are so many ways to add penguin crafts into your collection of DIY holiday decorations. Penguins are a big favorite with kids, and most people describe penguin crafts as adorable or cute. Penguin crafts are sure to be a lovely addition to any holiday home decor. Start adding these precious animals into your collection of homemade decorations this holiday season with this list of fun, easy Christmas crafts complied by AllFreeChristmasCrafts.

DIY Holiday Gift Tags
An easy way to incorporate penguins into your Christmas traditions this season is by putting penguins on your homemade gift tags like these Punched Paper Gift Toppers do. It is such a simple way use these adorable animals. You can also try out this Penguin Gift Tag by using a wooden tag and some paint to create a unique piece that's a perfect way to top off any gift.
Homemade Christmas Ornaments
Unique ornaments are the best way to make your tree stand out during the Christmas season. Take a break from red and green and try these awesome Purple Penguin Ornaments. If you want an easy Christmas craft to create with your kids, a Penguin Pals Ornament is for you; it can be completed in no time, and will look great hanging on your tree. Below are some additional examples of penguin Christmas ornaments you can make for the holidays.
Recycled DIY Christmas Decorations
Creating homemade decorations out of recycled materials is an easy and inexpensive way to add to your Christmas decor. These Recycled Penguins are made out of liter soda bottles. You could also make these Skiing Penguin Buddies made out of fruit cups. What an adorable and crafty way to go green this Christmas!
Haven't quite found your favorite new penguin craft for Christmas? Try out these additional cute penguin crafts for your table top or mantel.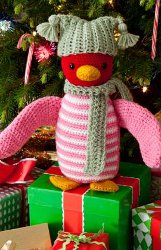 I love penguin crafts for Christmas, and I hope you do too! In addition to these adorable, fun Christmas crafts, go to AllFreeChristmasCrafts.com and to the AllFreeChristmasCrafts Pinterest Board throughout the season to see more penguin crafts. Enjoy adding penguins to your holiday decorations collection this Christmas!
What is your favorite Christmas character?
Latest posts by AllFreeChristmasCrafts
(see all)