Dia de Muertos, or Day of the Dead, is a Mexican holiday celebrated October 31st through November 2nd. The Day of the Dead is a special time to remember those who have passed and to celebrate their mortal and immortal lives. The memories of the dead are honored by building altars called ofrendas. These ofrendas are adorned with traditional Dia de Muertos items such as sugar skulls and marigolds. Altars are also decorated with the favorite foods and drinks of the deceased. These personal shrines are both intricate and ornate – personal belongings as well as religious symbols are beautifully arranged to commemorate loved ones who have left this world.
Dia de Muertos is not supposed to be a scary holiday associated with death and sadness. Instead, it is seen as a time of joy and celebration. I remember celebrating the Day of the Dead in my grade school Spanish class by taking a field trip to a local Spanish-speaking neighborhood. Every year, we would visit the National Museum of Mexican Art and see beautiful Mexican folk art, pieces by local artists, and gorgeous hand-made sugar skulls on display. Each skull was an intricate, sugary masterpiece complete with sequins, gold plating, and frosting. We would then walk down the block to the local Mexican bakery where tons of freshly baked sugary treats were waiting to be eaten.
The Day of the Dead has always been one of my favorite holidays – My roommate and I even dressed as a sugar skulls last year for Halloween!
Even though we weren't smiling, Dia de Muertos is a happy, joyful celebration. It's a jubilant and fascinating holiday that is celebrated all over the world, so here are a few easy craft projects for you to host a Day of the Dead celebration in your own home!
Day of the Dead Sugar Skulls
These tasty treats are more than a sugar rush – they're a work of art! These beautiful, frosting-covered morsels are as much a decoration as they are a party favor. Display them on your table as a centerpiece or have them lined along a desert tray. Either way, it won't be long before you can resist eating these traditional Mexican skulls.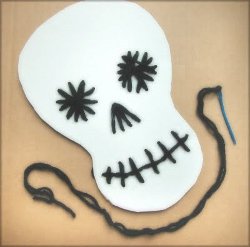 Spooky Stitched Skulls
These Spooky Stitched Skulls are an easy sewing project and a great way to decorate a plain t-shirt or bag. Attach them to fabric bunting to create a festive backdrop for your Day of the Dead fiesta.
Dia De Los Muertos Votive
The Dia de Los Muertos Votive is both spirited and charming. These little candles make a festive centerpiece and a great way to light up  your Mexican feast. Line up a few along the window or scatter them about a dining room table. Either way, the Dia De Los Muertos Votives are too cute not to make.
.
Can you say party favors? These little glass beads are a unique way to make Day of the Dead your own creative holiday. String skulls upon skulls of these fun little beads for some festive Day of the Dead jewelry or attach them to wire loops for drink tags!
.
Set the tone for your celebration with these festive greeting cards. These cute little invitations are a fun paper craft for kids and adults alike. Send them out to all your guests for your Dia de Los Muertos fiesta and let the games begin!
How are you celebrating the Day of the Dead?
Latest posts by AllFreeKnitting
(see all)