Kids of all ages are always growing out of their clothes…and it can be expensive to try to keep up with their changing bodies; however, crafty moms know that the secret to saving money when it comes to kids clothes is to simply make them yourself!
The great thing about crocheting kids clothes is that they're often small in size, so they don't require a ton of yarn and you can easily work up a sweater, scarf, or shawl in a weekend.  Handmade clothes are often more durable and are sure to last longer than store-bought items.  Plus these handmade sweaters, dresses, and scarves will be all the more meaningful to the kids because YOU made them!
Get your crocheting started with this adorable Pee Wee Coat.  Great for little toddlers, this precious crocheted pea coat is wonderful for keeping your little one nice and warm in the winter and fall.  Once the warmer weather rolls around, try your hand at crocheting this Lemon Drop Dress.  Perfect for little girls who love to play in the sunshine, this crocheted dress is a must for those who have little ladies playing around the house.
With lots of projects for little girls and boys, this collection of 14 Crochet Patterns for Kids is sure to inspire you to start creating handmade clothes for your children.
BONUS!  Looking for even MORE ways to update your children's wardrobe?  Scroll on down to find 28 more crochet patterns that are perfect for kids of all ages!
14 Crochet Patterns for Kids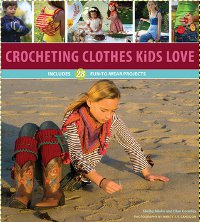 BONUS!  We're giving away a book filled with 28 awesome crochet patterns that kids of all ages are sure to love!  Head on over to the giveaway page now and register to win Crocheting Clothes Kids Love, a great book filled with colorful crochet patterns for little girls and boys.  You better hurry, though…the contest ends May 2nd!  Enter to win this awesome book today!
Love free stuff?  Check out our other weekly giveaways, going on now!
Latest posts by FaveCrafts
(see all)