Creative Lettering, by Jenny Doh, is split up into 16 different sections that feature hand lettering techniques and tips from 16 different artists. Each of the different styles and lettering techniques included in this book is presented to the reader in simple step-by-step processes. The 16 talented artists featured in this book come from a range of stylistic backgrounds including, calligraphy, painting, collage, card making, and graphic design. With such a wide range of styles and techniques to choose from, the reader is able to consider many different and unique perspectives on hand lettering. This book is a wonderful tool for crafters that depend upon narrative to bring their projects to life. Collagists, journalers, and mixed media artists will especially benefit from the knowledge that Creative Lettering has to offer.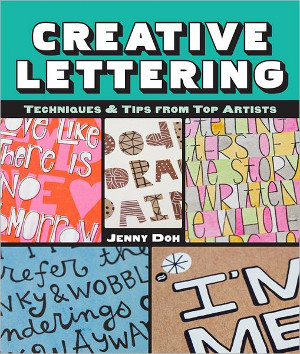 Some of the different lettering styles that are included in Creative Lettering are doodle lettering, floral lettering, outside-in writing, feathered letters, and textured letters. Each one of the 16 different sections includes an explanation of the artist's favorite tools, how to use them, and step-by-step directions on their favorite technique. These step-by-step instructions are accompanied by photographs which help describe each step in even more detail. There are also many other photos included in this book to serve as inspiration for the reader. With the help of Creative Lettering any crafter will be well on their way to adding creative and appealing narrative to their collages, handmade cards, banners, and more.
AllFreeHolidayCrafts.com is giving away a copy of  Creative Lettering to one lucky winner. You Could win!
Learn more and enter to win here.
Contest ends March 26, 2013. You can enter once daily, so return often to improve your chances of winning!
Latest posts by AllFreeHolidayCrafts
(see all)