Unique pumpkin patterns can be hard to come by, but we've done our research over at AllFreeHolidayCrafts.com. These celebrity pumpkin patterns are as unique as the stars they're modeled after. Whether you're looking for your favorite reality star, internet sensation, or heartthrob, we've found fun and creative ways to create the perfect pumpkin. Trust us, you'll be famous with your neighbors when you pull off one of these crazy-cute celebrity pumpkins!
Grumpy Cat Pumpkin
It's hard to resist the adorable charm of Grumpy Cat. That precious frown quickly quickly became an overnight internet sensation. Whether you have a Grumpy Cat shirt or you just love to share his many memes on the web, you can't deny his appeal. Now you can bring Grumpy Cat home with the Grumpy Cat Painted Pumpkin. It's one of the best painted pumpkin ideas we've seen this season. With some paint and felt ears, you can bring that famous face to life. This frowning pumpkin will give everyone a smile.
Honey Boo Boo Pumpkin
Whether your a fan of the show or not, everyone knows who Honey Boo Boo is. This cute little kiddo seemingly became famous overnight! If you can't get enough of the reality show this simple pumpkin tutorial will have your front porch glittering like Honey Boo Boo herself in no time! Let your fan flag fly with the adorable Honey Boo Boo Pumpkin pattern, it's sure to catch the attention of your guests this season.
Justin Bieber Pumpkin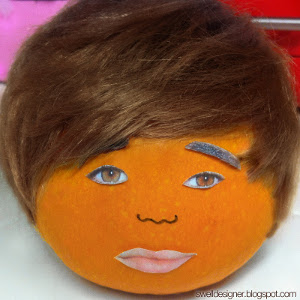 Be honest, no one is a stranger to Bieber Fever! Show off your love for The Biebs and his awesome tunes with this hilarious pumpkin parody. The Justin Bieber Pumpkin uses a voluptuous wig to bring that infamous hair swoosh to life right in front of your eyes. It's sure to be a memorable pumpkin! If you're looking to do something different with your Halloween pumpkins this year, this is the pattern for you. Plus, what better surprise can you present your favorite Bieber fan with this fall?
Snooki Pumpkin
Dedicate your autumn decor to everyone's favorite new mama, Snooki of the popular MTV show Jersey Shore. When it comes to celebrity pumpkins, this pattern is the queen of them all. Add a fun poof to the top of your Snooki Pumpkin and add a pair of dangles to show off the diva in her. It will have all your friends and family laughing, and quickly become one of more memorable painted pumpkins you've ever created.
Which celebrity pumpkin will you make first?
Latest posts by AllFreeHolidayCrafts
(see all)